The increasing prominence of telemedicine due to COVID-19 has tremendous potential to reach patients who have historically lacked access to healthcare, particularly those who live in low income, medically underserved communities or rural areas. While telemedicine removes barriers to receiving care by increasing access to services and reducing travel time, adoption of the technology by diverse populations remains a unique challenge driven by numerous factors.
In theory, telemedicine should increase healthy equity, which is defined as "the absence of disparities... among socioeconomic and demographic groups or geographical areas in health status and health outcomes." In many cases, telemedicine can actually amplify disparities in healthcare access for those with (1) limited digital literacy, or the ability to utilize information from digital sources, (2) lack of access to broadband internet coverage, and (3) limited English proficiency.
These factors contribute to the digital divide, which disproportionately affects patients of color, older patients, and patients coming from lower socioeconomic backgrounds.
Top Factors Contributing to Health Inequity in the United States
Poor Access to Technology
Access to digital technology continues to remain a large obstacle for many seeking treatment via telemedicine technology. More than one in three US households led by a person 65 years or older lack a laptop or desktop computer, and more than 50% of these households do not have a smartphone. People of color and patients who live in rural areas are also disproportionately impacted- over 30% of Hispanic and black children do not have a computer at home, while 33% of rural Americans lack access to high-speed broadband Internet to support video-based telehealth visits.
A Lack of Digital Literacy
Even if a patient owns a smartphone or owns a computer, however, it doesn't necessarily mean they understand how to participate in a telemedicine session. The patient must also have sufficient know-how and comfort with the technology in order to use it. Unfortunately, many patient-facing telemedicine solutions are difficult to use, involving cumbersome signups, clunky user interfaces, and the downloading of software. Recently published studies have echoed this, remarking that many telemedicine solutions have been designed with little attention to digital literacy.
The lack of patient-centered design doesn't make it any easier to use telemedicine for the 31.8 million Americans that are digitally illiterate, meaning they have an inability to utilize communications and technology through a digital medium. Furthermore, inflexible requirements like forcing patients to enroll in patient portals typically leads to health inequity; it's been proven time and time again that the most vulnerable populations are less likely to use patient portals. Unfortunately, this lack of attention to patient usability impacts access to and benefits from telemedicine treatment for a large patient population that probably needs these types of services the most.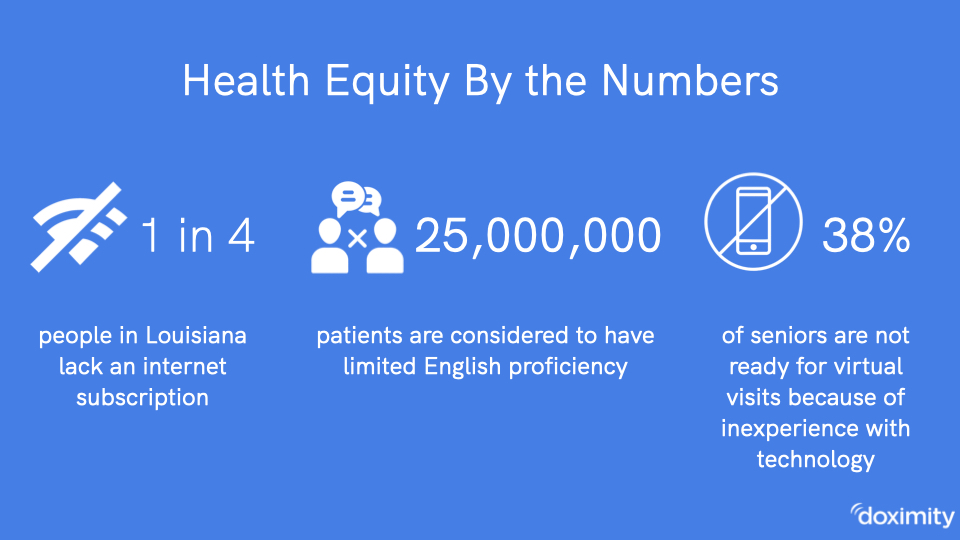 Limited English Proficiency
In the United States, data from New York City, Boston, and Los Angeles has shown that the Hispanic community, of whom many are of limited English proficiency, account for a disproportionately large percentage of COVID-19 hospitalizations and deaths.
Despite the increasing need to cater to this community, many patient portals and telemedicine solutions continue to have instructions and virtual treatments available in English only. This leads to missed opportunities to build rapport with patients, but more importantly, misdiagnosis and the delivery of ineffective treatment due to misunderstandings within the clinician-patient conversation.
Doximity Dialer Video: Developed with Health Equity in Mind
Doximity Dialer Video was developed with health equity in mind, eliminating barriers for healthcare professionals and patients alike to generate positive health outcomes. In fact, in a recent JAAD study at Harvard, Doximity significantly helped reduce no-show rates, with the greatest reduction seen for Black or African American, LatinX, and primary non-English speaking patients. Features that address health equity include:
100% free: Doximity Dialer Video is free to use so as many healthcare professionals and patients can have access to telemedicine technology
A seamless, easy-to-use patient experience: With Doximity's Dialer Video, patients don't need to download any app, enroll in a patent portal, or create an account -- they just tap a link to join and start the video call. One-click video calls, it's that easy. It's no wonder the Journal of the American College of Surgeons review found Doximity's video app "the easiest way to connect with patients."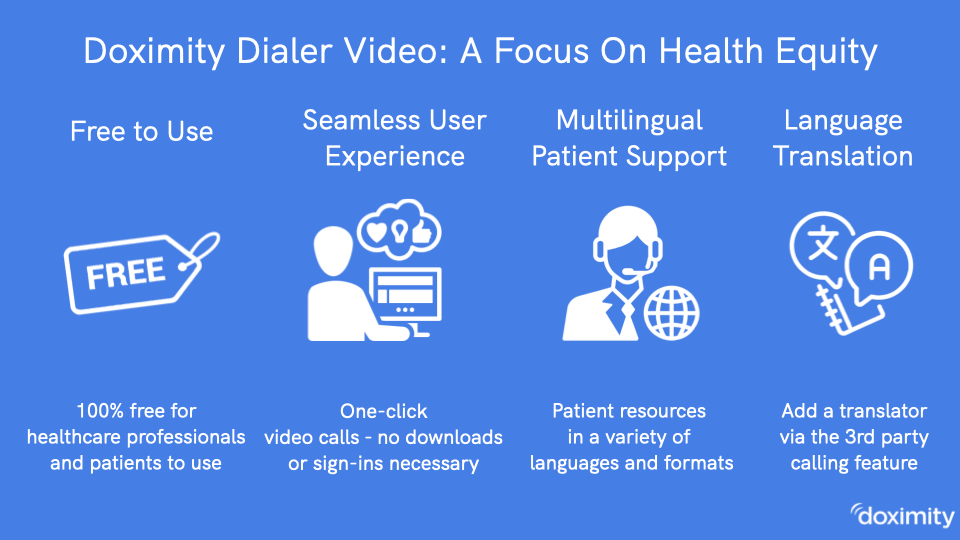 Language translation via 3rd party calling: Add a translator to the conversation via the 3rd party calling feature
Multilingual patient support: Language should never prevent a patient from receiving care -- Doximity provides robust patient support, with guides and collateral in multiple languages and formats.
Bridging the Digital Divide with Telemedicine
Although telemedicine has spread rapidly during the COVID-19 pandemic, it has not reached all patient populations the same. Understanding which factors drive health inequity will allow healthcare professionals choose a telemedicine solution that is inclusive of all patient types so everyone has an opportunity to achieve their full health potential.
---