During Black History Month we reflect on the important leadership Black individuals past and present have contributed to the field of medicine. Each week we are spotlighting prominent members of the Doximity network. Each interview sheds light on the unique experiences these physicians face in medicine today as well as the amazing work they are trailblazing. This week we are interviewing, Danielle Hairston, M.D., Psychiatry, Residency Training Director at Howard University College of Medicine & Hospital.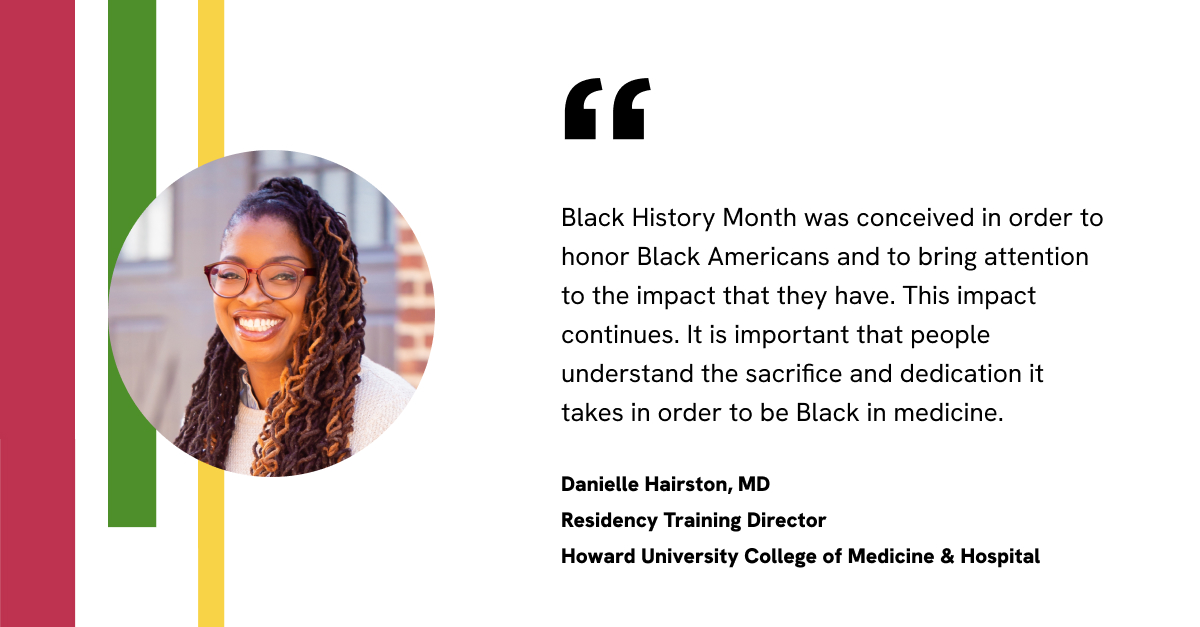 How does Black History influence your life as a physician?
In every way. As a physician, I work in a field that has historically and contemporarily neglected and marginalized people who look like me. Being a Black physician, makes me a part of Black History. There are not many of us- Black physicians and the number of Black psychiatrists is even more dismal. I have the privilege of being trained at a HBCU medical school. The need for and creation of HBCUs are a direct result of the drive to value education for Black people in this country. That is Black History.
Being a Black physician, makes me a part of Black history.
Why is it important to you that we celebrate Black History Month in medicine?
Black history month was conceived in order to honor Black Americans and to bring attention to the impact that they have. This impact continues. It is important that people understand the sacrifice and dedication it takes in order to be Black in medicine.
What has your journey been like as a Black physician?
I have been blessed with amazing mentors and educators who have supported me throughout my journey, without them I wouldn't have become a physician. I have also experienced systemic racism in the healthcare system that is supposed to train me. Without strong mentorship, therapy, and radical self-care I would not have completed this journey. I have had many highs on my journey, but also quite a few lows. Being a doctor is hard. Being Black is hard. And, I have combined them.
What can we do to support Black individuals pursuing or interested in pursuing medicine?
Support Black people interested in pursuing medicine, by investing in them. This means more than letters of solidarity. This means providing them with resources. These resources can be time, energy, opportunity, and importantly funds. Include Black students in your projects, research, and papers. Support them through application processes. Use funds to create mentorship programs for Black physicians. Pay Black physicians for their time when they are participating in and creating these DEI initiatives.
Are there any organizations you would like to highlight?
The Black Psychiatrists of America and Howard University.
Are there any historical figures or current leaders that you want to acknowledge?
Two of my mentors passed away recently. They should be honored now and always for building the foundation for Black Psychiatrists like me. Dr. Patricia Newton of the Black Psychiatrists of America and Dr. Carl Bell.
How is Doximity helping you provide patient care to diverse patient populations?
Doximity is helping me to increase visibility. It shows students and my community that physicians like me do exist. Doximity enables connections and networking so that my peers and I can support each other and strengthen community.
Is there anything else you would like to share?
I have a Podcast! 'The Next 72 Hours' focuses on racism in medicine & society. I also have a youtube channel called Black Psychiatry. It provides free resources and gives access to Black leaders in psychiatry.
---