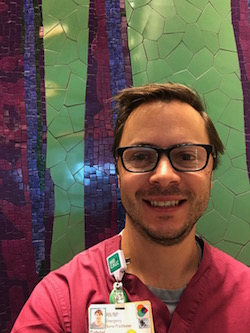 Gabriel Westheimer is a FNP who is Emergency Medicine fellowship trained. He has been working at the Zuckerberg San Francisco General Hospital and Trauma Center for the past three years. Prior to SFGH he worked at several community departments in the East Bay and Sacramento. He is passionate about NP education and interested in making his clinical students think critically and build a foundation for their careers. His goal for SFGH is to reach a point where NPs are working to the fullest extent of their practice.
Outside of work he and his wife enjoy cooking and making cocktails for friends (#BarMonheimer). They love international travel and are active resort and backcountry skiers.
You can follow him on Instagram at @gwestheimer and Twitter @NPintheED.
---
Choose two words that best describes your work style:
Mellow. Focused.
What is your device of choice?
Apple iPhone 7 – our hospital gets terrible reception so keeping it on WiFi and on airplane mode makes the battery last all day with extra to spare.
Favorite apps & software?
MDCalc, EMRAABx, Sanford Guide, AgileMD, UpToDate.
How does Doximity help you in your work as a clinician?
I use the news page on a regular basis to stay up to date on current articles pertaining to my practice and refer patients who are out of my county system for follow up visits to specialists.
What's your secret to staying productive?
Always learning. I tell my students the second you feel that you understand everything and don't need to keep learning, then don't come to work.
Describe your journey to medicine.
Anything but direct. It started with my love for skiing and wanting to be a professional ski patroller. After getting my undergrad degree in theater, I took a one month wilderness EMT program through the Wilderness Medicine Institute. Jump forward a few years and I was Ski Patrolling in Utah with a wonderful crew at Deer Valley Ski Resort. Knowing that I would be moving to the Bay Area and that I wanted to go back to school, I applied to Samuel Merritt University and began their fast-track NP program. After graduating, I was fortunate to be the first Emergency Medicine Fellow for Emergency Medicine Physicians (EMP) in their Sacramento, CA Hospital. For the past three years I have been at my city's level one trauma center:
the Zuckerberg San Francisco General Hospital and Trauma Center.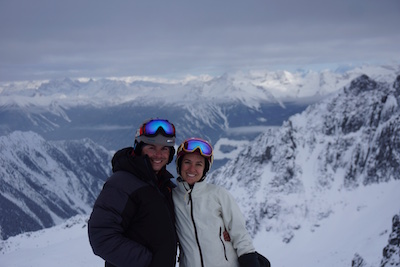 What do you wish you knew when you were a student?
That it will all work out.
Who is your mentor?
I have had lots of mentorship from Dr. Tris Rieland and Dr. Greg Rosellini, who led my one-man fellowship and helped set a foundation of excellence in emergency medicine. Now, I am fortunate to work at San Francisco General surrounded by some excellent mentors. Seeing how Dr. Michelle Lin has grown Academic Life in Emergency Medicine (ALiEM) and how Dr. Paul Jun has helped shape HIPPO Education has been inspiring.
As an Emergency Nurse Practitioner, you must be busy. How do you find work/life balance?
One of the best things of emergency medicine is being able to sculpt your work life balance. It is true that the odd hours and the random shift schedule can impede some things including important family time and regular sleep patterns. Once you get beyond that, you are able to take advantage of the flexibility and have some serious space from work.
For me it is a combination of downtime with my wife, eating good food, mixing cocktails, and hanging out with our two greyhounds. Active travel is also an important part of my work life balance. I was able to spend six weeks on the road with my wife and friends, traveling and driving throughout Africa while leading our own safaris. I'll soon be departing on a three-week Japanese backcountry skiing adventure come the new year. Exercise is a big part of our down time and training for our next adventure.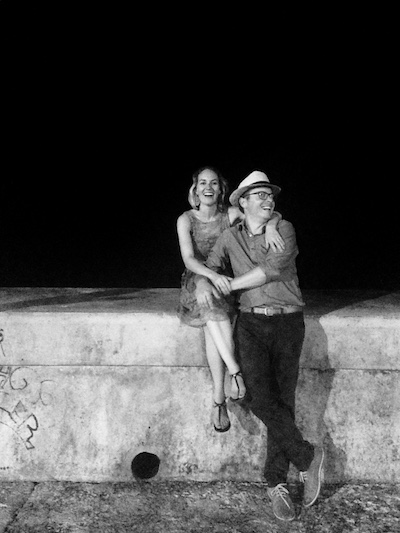 Do you have a favorite song?
Not at this time
What's the best advice you've ever received?
If there is something else you can do, don't be an actor.
What would your colleagues be most surprised to learn about you?
Most people don't know that I am completely blind in my right eye from Coats disease.
---