During Black History Month we reflect on the important leadership Black individuals past and present have contributed to the field of medicine. Each week we are spotlighting prominent members of the Doximity network. Each interview sheds light on the unique experiences these physicians face in medicine today as well as the amazing work they are trailblazing. This week we are interviewing, Fatima Cody Stanford, MD, MPH, MPA, MBA, FAAP, FACP, FAHA, FAMWA, FTOS; Associate Professor of Medicine and Pediatrics, Harvard Medical School; Obesity Medicine Physician Scientist, Massachusetts General Hospital; Director of Equity, Endocrine Division, Massachusetts General Hospital.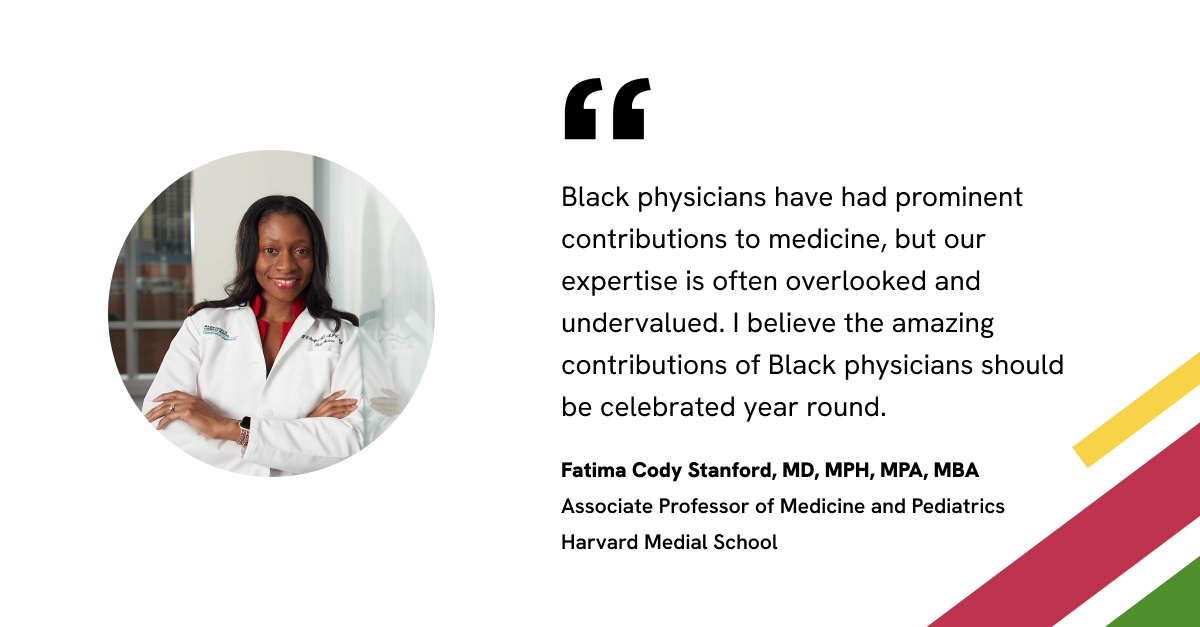 How does Black history influence your life as a physician?
Unfortunately, there remains a paucity of Black physicians in the United States. The number of Black physicians has only increased by 4% in the last 120 years. This fact strongly influences my life as a physician, particularly as a black woman physician scientist. I know that my work helps to pave a better path for those behind me. In fact, I have captured this in works that I have written recently such as my piece in the Lancet entitled, "Superhuman but never enough: Black Women in Medicine."
Excerpt: " Black Americans make up about 13% of the US population but comprise only 5·4% of the physician workforce, and of these only 2·8% are Black women. There are even fewer Black women in academic leadership roles: only 0·8% of full professors at US medical schools in 2020 were Black women."
Why is it important to you that we celebrate Black History Month in medicine?
Black physicians have had prominent contributions to medicine, but our expertise is often overlooked and undervalued. I believe the amazing contributions of Black physicians should be celebrated year round.
I believe the amazing contributions of Black physicians should be celebrated year round.
What has your journey been like as a Black physician?
My path in medicine has been challenging. The hurdles I have had to cross have been both public and private, and I choose to share my story so that others do not feel isolated. In a recent article I wrote in entitled "Racism in Medicine is Alive and Well" demonstrates part of my journey.
Excerpt: "From the moment I entered my career in medicine, being a Black woman has worked against me. While I have known in my life that both my race and gender could be prohibitive, it was only during my time in medicine that I learned that no matter how much I achieved, I would still be questioned. I call it being "too much, but not enough."
What can we do to support Black individuals pursuing or interested in pursuing medicine?
We must acknowledge that the path in medicine is more treacherous for Black students, trainees, and physicians. This is secondary to both systemic and structural racism which is still pervasive in the US and around the world. Once we acknowledge, we must put structure in place not only to ensure acceptance into medical school, but we should ensure that Black students, trainees, and physicians receive adequate support and equitable access to opportunities.
Are there any organizations you would like to highlight?
Yes! I am the Immediate Past Chair of the American Medical Association Minority Affairs Section. This work has been pivotal in working toward equity in medicine for underrepresented groups.
Are there any historical figures or current leaders that you want to acknowledge?
| | |
| --- | --- |
| I would like to acknowledge one of my favorite historical figures, Harriet Tubman. She underwent brain surgery at Massachusetts General Hospital. As I walk the halls of MGH, I recognize that one of the bravest and most spirited figures in history existed in the same space where I now practice medicine. | Harriet Tubman, American abolitionist and political activist. |
---