The importance of networking is often heavily stressed as a professional, no matter the industry. However, traditional networking can be time consuming -- and for the medical community, close to impossible. The unpredictability of on-call schedules and long hours leave little time for networking. Oftentimes, physicians find themselves turning to organized networking events or (uncomfortably forced) mixers.
Thanks to the advent of the internet, physicians can network with anyone, from anywhere. Remember your lab partner from medical school? According to her Doximity profile, you notice that she's currently Surgeon in Chief at one of the largest heath systems in the United States -- and they're hiring! Networking may not be so bad, after all.
"My connection with Doximity and the Fellows program has impacted my career and my life as a result. My connection with one of my fellow Fellows led directly to a new job opportunity near my hometown. Without Doximity this would not have been possible."
-Lamont Hunter, PA-C, MPH
"After CME tracking, Doximity's next biggest impact has been on my networking abilities. Instead of looking through old emails, Googling, or friending people of Facebook, Doximity makes it easy to learn what my old classmates and co-residents are doing, where they are living, and who we know in common. With such a large portion of physicians represented, it is rare that I wonder about an old colleague that I cannot find via Doximity, and, like most docs, networking is key to my work."
-Valory Wangler, MD
Look up your alma mater on Residency Navigator to easily find past classmates and see where they ended up and if you have any mutual connections.
Looking to move to San Francisco? It may be time to start leveraging those connections.

Click on each alum's profile to learn more about their training background, past publications and mutual colleagues. Easily send them a message to initiate a conversation.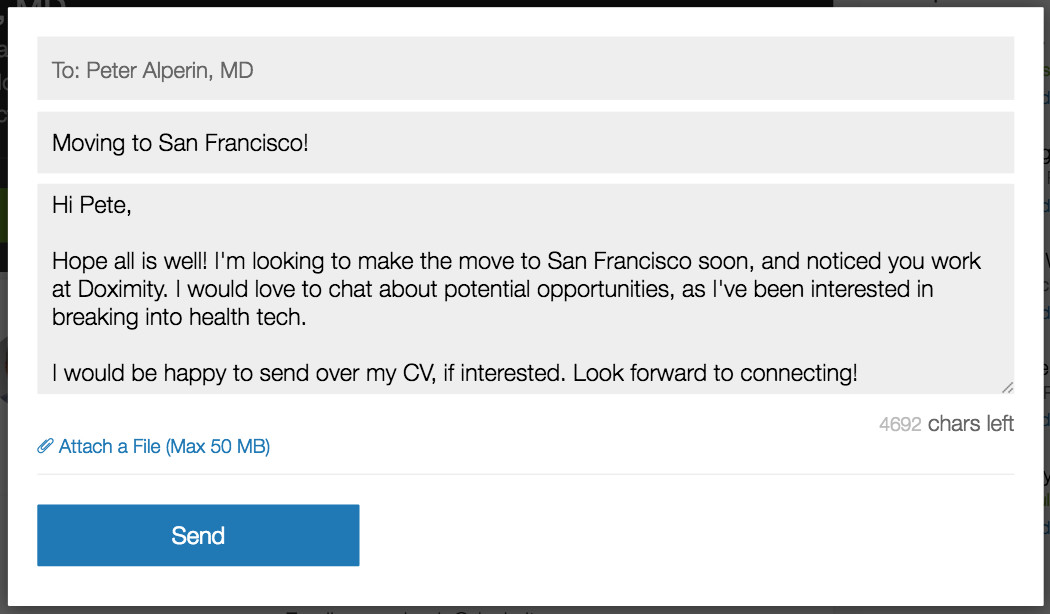 Your network is out there. What are you waiting for?
---