In this week's blog post, we interviewed Erin Gray, the Product Manager for the Social Updates team at Doximity. Interested in joining the Product team? See our open positions.
Many thanks to Sebastian DeLuca, the Product Manager for the Doximity DocNews team, for conducting this interview.
How long have you been at Doximity?
Erin: I just hit my three-year mark at Doximity a few weeks ago!
Three years is a long time at a startup! Could you share a little bit more about your path to product management at Doximity?
Erin: My path to product management has been a bit untraditional, both in terms of my background and my pathway into Product here at Doximity.
Doximity is actually the first company at which I worked after graduating college. It's been an amazing place for me to learn, figure out what I love, and to continue to grow personally and professionally.
But taking a step back to before Doximity, I studied Human Biology at Stanford. I was pre-med, and wanted to be a doctor ever since I was a child (or at least that's what people told me I should be).
I was always passionate about biology and medicine, specifically global and community health. But, as a self diagnosed left-brain dominated individual, I also fell in love with something I wasn't expecting. It was product design.
My junior year, I took courses that melded both global health and biology with building products and developing solutions through both physical and digital means. Through these courses, I had the opportunity to work closely with engineering, medical, and design students on a range of interesting projects, such as designing a mobile based multimedia alerting system for Dengue Fever in Cambodia and exploring how to strategically scale a low cost prosthetic knee.
These courses helped me realize that there were many different ways to impact healthcare beyond being a physician. This was really exciting to me -- that there are different avenues, different levers you can push and pull, and different seemingly auxiliary problems you can work to solve that all are a part of achieving favorable patient outcomes. This was when I realized that product management, specifically in the healthcare space was what I wanted to do. But I struggled with how I'd hone those skills against my life sciences background.
I think a lot of people feel that way. They feel like, "Oh, if you want to do this, you have to have these skills, and I don't have them, but I'm interested."
Erin: I completely agree. I was thinking to myself, "I have no technical skills on paper, but, I have a lot of broad domain knowledge. I'm a quick learner, and I know what I really enjoy doing and what I want to be doing. But, how can I actually get there -- to be a Product Manager?"
After the realization that I didn't want to be a doctor, I found myself looking for internships prior to my senior year. I found Doximity on LinkedIn and emailed the head of marketing, and I was like, "Hey, I think Doximity is awesome. Do you have any openings for an internship?" I wasn't necessarily looking for a marketing role, but I felt I could best position my skills in that capacity and thought I had a lot of opportunity to learn there.
So, I joined Doximity as a marketing intern in 2014. It was a really cool experience. My role was mostly focused on communicating with our physician power users, whom we work with to get product feedback and to serve as a sounding board to help us keep a pulse on the true needs of clinicians. I spent the summer working with them, writing surveys, and analyzing data that not only informed marketing strategies, but our product strategy as well.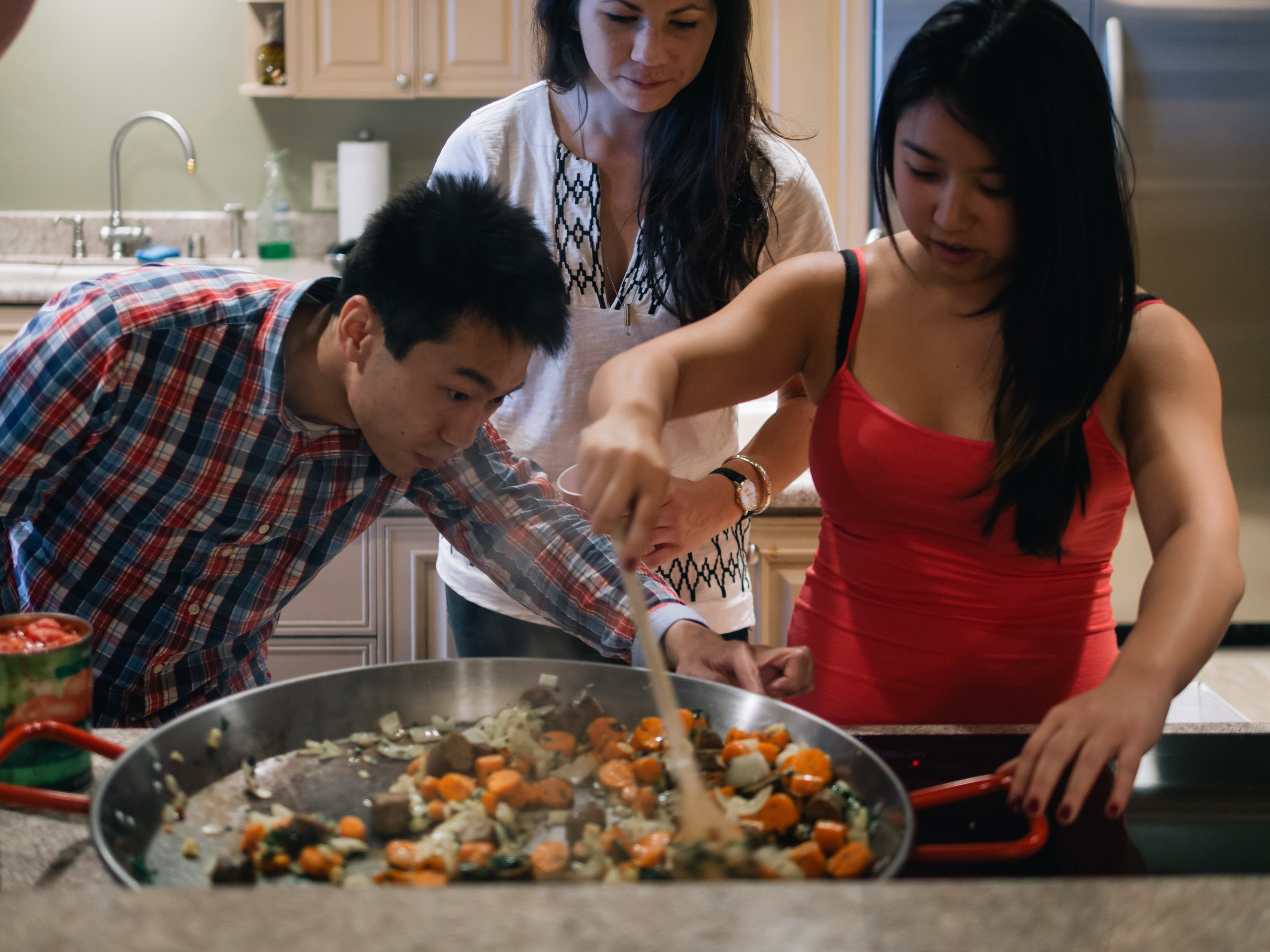 One of the great perks at Doximity are our quarterly offsites. Here I am at my first offsite in 2014.
My internship left me with a stronger desire to work in this intersection of tech and medicine, particularly in the area of building products to improve the day to day lives of clinicians. This realization led me to say goodbye to pre-med my senior year and I filled my schedule with product design courses at the Stanford d.school in hope of starting down the product path.
I didn't necessarily know where product design was going to take me career-wise, but the "d.school" courses were ones that I felt like I couldn't take any where else. Essentially, I did half of the product design degree my senior year and loved those classes. It was such a cool experience that really pushed me out of my creativity comfort zone.
That's great.
Erin: When I was looking for post-graduation jobs senior year, I was looking at several different avenues. I didn't want to go to medical school anymore. I loved product work, but I still felt I didn't have a strong enough skillset or technical degree to get my foot in the door.
Another avenue I was considering was healthcare consulting. I felt like it'd be a solid path in the sense that you get a broad range of skills that you can take anywhere, and it gives you the opportunity to learn a lot very quickly
In the end, I joined Doximity as Client Success Manager on a very new product. I think I was the 2nd or 3rd hire for that team, working with hospitals to help connect their physicians with referring physicians through Doximity. We focused on leveraging our social graph to create a friendly introduction between specialists (like a top neurosurgeon at UCSF) and referring physicians in the surrounding community.
I was lucky to join the team in the early stages. Being at a smaller company is really exciting because we move quickly and sometimes we don't have everyone in place to cleanly fit into the roles we need. I was really lucky to be encouraged to dig into things and identify issues or take a question a client asked me and translate that into product changes or product suggestions. That slowly transitioned into me being a product analyst, working as a mentee under a seasoned product manager on the hospitals team who helped me evolve into my current role as a product manager.
That's awesome. It's like you said, maybe it's untraditional, but that's becoming more common, especially with the example you are setting.
So, you joined the company in 2014 and you have been here much longer than the vast majority of people at the company. How has your role in product evolved over the three years you've been here, on a day-to-day basis and broadly?
Erin: In the last two-and-a-half years on the product team, my role has definitely changed a decent amount, but some things have stayed the same. We are lean. Our team is small and agile, allowing us to move quickly and work together as a unit to move forward. But, what that often means is the product managers wear a lot of different hats. That was even more the case earlier on in the company when we didn't have quite as many people filling out these roles in design, data analytics, etc.
Now that the company has grown, instead of wearing multiple hats, my role has evolved to supporting the team as a whole. Rather than just doing things on my own, I work to share the relevant information to help everyone on my team accomplish their roles.
It has been really exciting be able to collaborate with our talented data, design, and engineering teams, whom I have the honor of working hand-in-hand with to understand what our users want and need and really empower us as a team to build awesome products. The people I work with impress me every day, and I'm just super-excited and lucky to be able to work with and learn from my co-workers.
Our growth, both as a company and team, has allowed each of us to focus more on the problems at hand. Rather than one product manager working broadly on 20% of all of our products, we now have one product manager working closely on 5% to 7% of our products.
You are the product manager for Doximity's Social Updates team. What is your team responsible for?
Erin: At its core, my team is integral in creating a community on Doximity. We help our users discover and create deeper social connections on our network that they normally wouldn't have made elsewhere. And, we do this in two ways.
First, there's the social component. We're able to harness the wealth of our network data to surface both meaningful content and meaningful connections. So, if your medical school classmate published a groundbreaking paper, it is relevant to you, not only because you share the same specialty, but because of the meaningful social connection that you shared the common experience of attending medical school together.
Not only do we position content in a social way, but my team is also focused on how we deliver the content, when we deliver it, and who we deliver it to. This could be through email, through a newsletter about updates within your network, or on the Newsfeed, highlighting that perhaps your coauthor just got a new job. It's about tying in content through social aspects of our network.
The second way we create community is by keeping our users up-to-date on the colleagues and conversations they'd like to know about. For example, when a user comments on a groundbreaking study and someone replies to their comment, my team is focused on closing that conversation loop. We promote the conversation to other users who would be interested, which really helps continue the discussion and engage other members in the community.
In sum, our work builds community on Doximity by uncovering meaningful social connections within the network through social updates, newsfeed content, and notifications.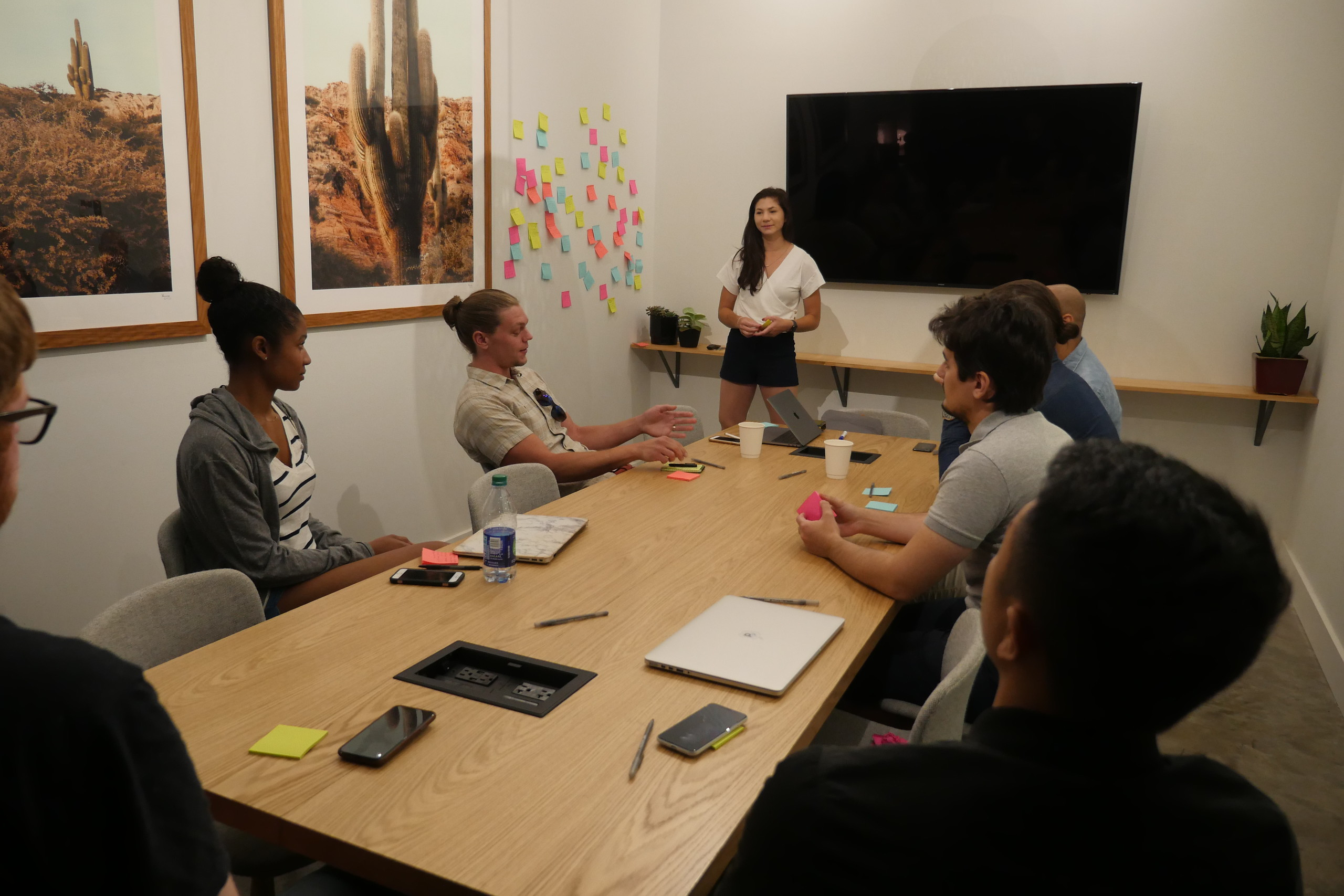 Leading a brainstorm session with the Social Updates team.
As you've continued to help build a community on Doximity amongst clinicians, at the moment, what excites you the most in regard to creating stronger connections between clinicians and physicians?
Erin: What excites me the most, is helping to build social professional relationships in medicine. Medicine is a team sport and having those connections with people you're working with on a day-to-day can be really powerful. It's also knowing you have a network of specialists you can reach out to for a curbside consult about a difficult case. This is what we do very well at Doximity -- help doctors make meaningful connections with each other. Whether it's connecting a family medicine doctor with a specialist, who also happened to go to the same medical school, or helping that oncologist connect with his former co-worker he worked with 3 years ago in NY, who has agreed to continue treating his patient who is moving there -- we've seen it all.
We've experienced first hand that creating those social ties in a professional way can be incredibly impactful, and is sorely needed in today's healthcare industry. The field of medicine presents a lot of struggles that clinicians face daily -- the difficulties of medical education and selecting a residency program or the challenge of achieving a balanced lifestyle in a profession known for its long hours, to name a few. By providing a platform for more social connections, I think Doximity is positioned well to add in the human element of shared experiences and community to mitigate some of the daily pressures faced by clinicians.
You have a lot of great experience. Do you have any advice for other product leaders who are trying to build social products, based on some of your learnings, whether it be with our community or just broadly?
Erin: Data is key and understanding user relationships and user connections lay the groundwork for social connections.
Testing and understanding the "what" -- what's interesting to your audience is vital. In addition to qualitative user research, you'll want to test and rely on data to help inform and validate decisions. I've learned that sometimes users don't tell you what they actually want, they often tell you what they think is the "right" answer.
If you ask a clinician if they care if someone updated their profile photo or started a new job, they may say, "No, I don't care at all." But, when it comes down to it, clinicians are also human, and seeing these updates about someone they know can actually create a really strong connection.
This brings to the surface the importance of the "who", and getting that right. Community is all about the people so it is essential to understand who users care about -- whether it's their colleagues, co-workers, or others in their specialty area.
Creating community it really about understanding your users and their spoken and unspoken needs and laying the groundwork for them to develop a connection with the who and what your community provides.
Interested in working on the Product team at Doximity? See open positions.
---