In the past five months, over 100,000 physicians all across the United States have used HIPAA-Secure Doximity Dialer Video to care for their patients during the COVID-19 pandemic.
"I've conducted hundreds of telemedicine visits since the COVID-19 outbreak," says Dr. James Schwartz, a family medicine physician at Coastal Medical in Rhode Island. "Among the multiple platforms I have tested, Doximity is the easiest, simplest and most reliable. Patients require no portal and no app. They just tap on the link in the automatically generated text message and presto, we're connected!"
We've made even more updates to Dialer Video to help healthcare professionals like Dr. Schwartz to collaborate more effectively and work more efficiently so they can deliver better health outcomes: Dialer on Desktop, Screen Sharing, Call Nudges and iPad functionality.
Need a bigger screen? Try Dialer Video on Desktop
Whether you need to chart while you chat, or just need a bigger screen to see your patient, you'll love Dialer Video on your computer. Just sign in to your Doximity account, and you're in! It's just as secure and reliable as Dialer Video in the Doximity app. See how it works.
Use Screen Sharing to Share Documents Or Medical Images to Guide the Conversation
With screen sharing, healthcare professionals can enhance their patients' understanding by reviewing lab results, imaging, x-rays, and more to help explain health conditions, solutions, and preventative measures.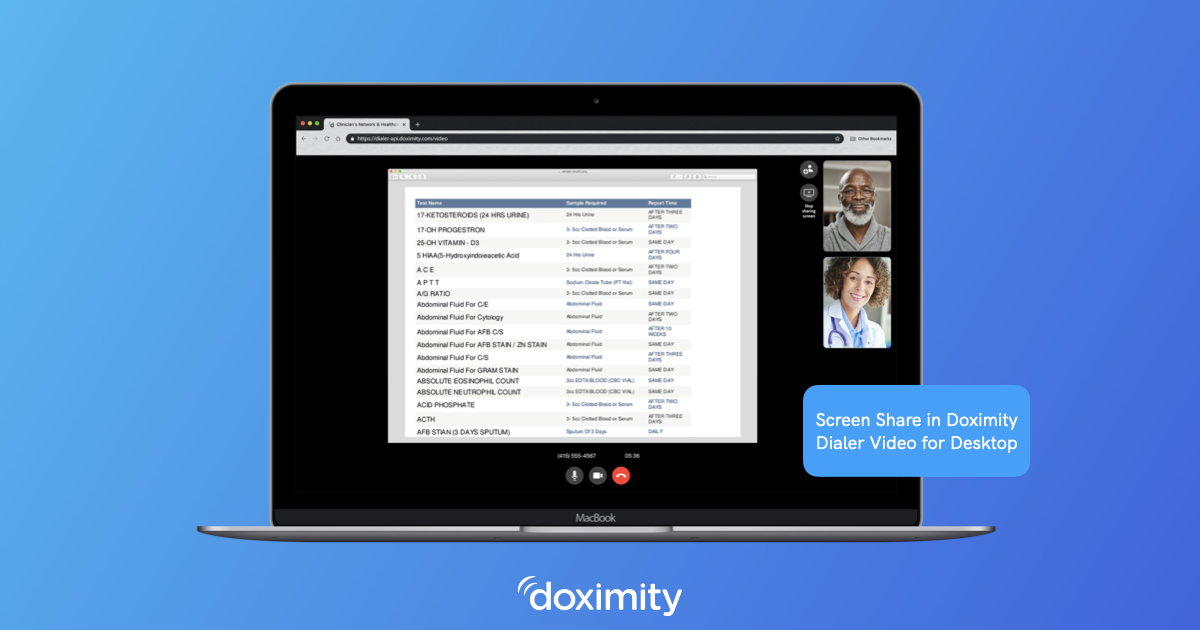 Dr. Alexander Kutikov, Chief of Urologic Oncology at Fox Chase Cancer Center in Philadelphia, uses the screen share feature during telemedicine video calls to contextualize and communicate complex concepts to his patients.
He says, "For patients undergoing prostatectomy or cystectomy, I'm able to bring up illustrations that showcase key aspects of these complex operations and better explain perioperative logistics and challenges. Dialer Video's screen share feature is just what the doctor ordered.
Here's how easy it is to start a screen share:
First, click the screen share icon located on the top right corner to start sharing your screen.
You will be prompted to share either your entire screen, an application window, or a browser tab
To stop screen sharing, click the screen sharing button on the upper right corner of the screen, or click the "stop sharing" at the top left of your screen.
Please note: You must have the latest version of Google Chrome, Safari, Firefox, or Edge (Chromium) in order to enable the screen sharing functionality.
Call Nudges Keep You On Schedule
Sometimes patients can miss the text you've sent them or forget about your scheduled video visit. Call Nudges allow you to call your patient to see if they're still available for the video chat without leaving the video call room. Your call will appear to the patient as coming from your office number so your patient knows to pick up.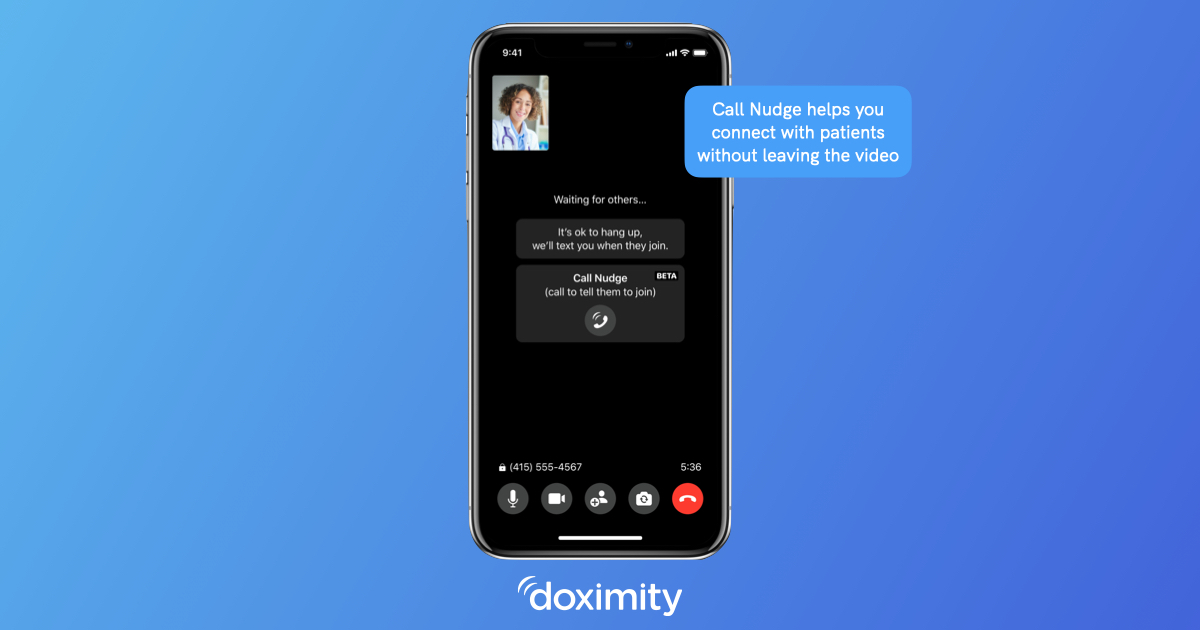 Jason Mower, a physician assistant at the Glenn Medical Center in Willows, California, says, "I love the new Call Nudge feature - I just used it for the first time and it saved me two minutes on my first use. It allowed me to spend those extra two minutes in the care of the patient instead of trying to connect with her. Ease of use was excellent and I love the little directions too!"
Start a video call and tap "Call Nudge", which will call your patient using the Caller ID listed at the top of the call screen
When your patient picks up, tell them to look for the text you sent them and tap the link
When the patient taps the link, they will need to enable access to their camera and microphone. Please instruct them to tap "allow" when prompted.
The voice call will automatically hang up. This allows the patient's microphone and camera to be ready for the video call. Your patient should enter the video call shortly thereafter!
Dialer Video is Now Available on the iPad
As we continue to increase Dialer Video access, we're constantly exploring new formats to bring our telemedicine tool to more platforms. We're excited to announce Dialer Video for iPad is now available in the App Store on the Doximity app. Dialer Video for iPad retains all of the core functionality of the mobile version and is perfect for healthcare professionals that prefer conducting telemedicine sessions on larger displays.
These new features join an already-robust feature set that offers healthcare professionals practicing telemedicine enhanced convenience, security, and productivity. These features include:
Custom CallerID: Physicians can set the CallerID to their hospital or office line, which makes it more likely that patients will recognize the caller and pick-up. The doctor's private cell phone number is always protected. Please note Dialer voice calls are only available on the mobile app, not the iPad or desktop versions.
Full HIPAA Compliance: Patient calls are encrypted, kept private and never recorded
Epic Haiku Integration: Authorized care team members can initiate calls to patients seamlessly from within Epic's mobile electronic health record app
One-Click Video Calls: No extra downloads or sign in required for your patients. Works on any smartphone
3rd Party Conference Calls: Seamlessly add a third party to your video and voice calls
To try out any of the new Dialer Video features, simply login to the Doximity App on iOS or Android-enabled mobile devices or the Doximity desktop app.
---