At Doximity, we are continuing to invest in simple communication tools, like Dialer, to make doctors' lives just a little bit easier.
We're delighted that the Dialer feature in the Doximity app has been helpful to physicians, nurse practitioners, PAs and pharmacists across specialties.
Already use the Dialer feature? Try the new copy and paste feature.
We've made it even easier for our members to seamlessly integrate Dialer into their workflow. Now, when you copy your patient's phone number on your phone and open the Doximity app to Dialer, you will be automatically prompted to paste the phone number.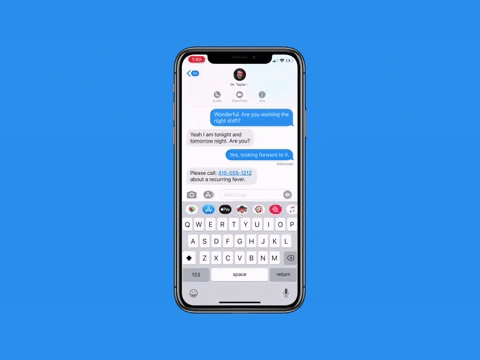 If you're a healthcare professional who calls patients, the Doximity app is for you.
If you haven't tried the Dialer feature in the Doximity app yet, give it a try and see how easy it makes patient calling. The Doximity app lets doctors call their patients from the cell phone, but makes it look like they're calling from their office phone number.
Why Doximity members love the Doximity app to call patients:
The @doximity app has a dialer that can make it look like you're calling from the hospital number when you're calling from your own cell phone. Nice intermediary.

— Naan Derthaal, DO, FAAOS (@NaanDerthaal) May 31, 2019
One of the med-peds residents told me about the Doximity Dialer app today, so I am recommending it now for all the other interns on #medtwitter

— jason ruins Italy (@J_Petitjean) August 27, 2018
Do you already use (and love) the Dialer feature? Request to join Doximity's Beta Program to try the experimental features we're working on now before they're released to the rest of the network.
---