At Doximity, we're constantly iterating on and building tools to help solve common physician pain points. One of those pain points, we've heard, is earning CME. Between attending out-of-state conferences and paying to watch irrelevant clinical videos, there isn't an easy way to fulfill CME requirements. We hear you. We provide a convenient way for physicians to earn Category 1 CME at no cost. Simply search the clinical topic, read the article, and earn Category 1 CME credits.
No quizzes, no surveys. Simply search, learn and earn.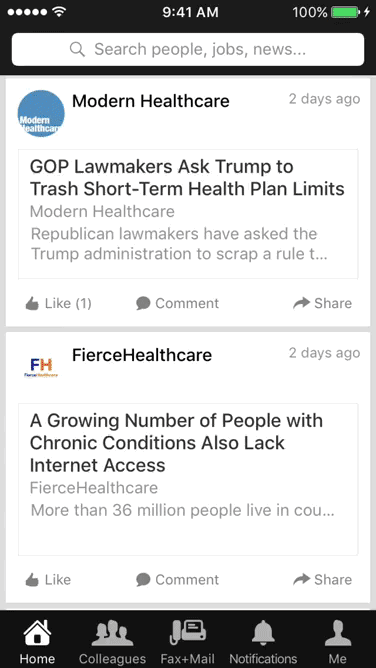 How is this possible?
The AAPA, ANCC and AANP accept certificates for participation for educational activities certified for AMA PRA Category 1 Credit from organizations accredited by ACCME. Each eligible article earns 0.5 credit and you can earn a max of 30 credit hours in a calendar year.
What do you need to do:
Using the webpage or the Doximity mobile app, search for articles/topics on DocNews tab or search bar.
CME eligible articles feature a orange certificate icon.
All eligible read articles are tracked in Doximity CME Tracker.
720,000 CME credits were earned last year on Doximity. Here's how point-of-care Doximity CME has helped doctors:
"There is so much change happening in health care and I depend on the Doximity articles and discussions to keep up to date on current trends and controversies. Having that knowledge enables me to be a more cognizant clinician and educator. When the Google RSS Reader was sunsetted, I needed a resource to compile all of the journals, newspapers, and magazines that were pertinent to my medical practice. Doximity did a wonderful job filling that void especially with the mobile applications when I'm on the go."
-Safwan Halabi, MD
"Doximity has allowed me to stay informed on news from medical journals as well as popular media. As I stay abreast of what's written in NY Times and NPR, I can also advise my patients who have read the same articles. The ability to earn CME while staying informed is also a huge benefit. Doximity has the capability of fulfilling much of a physician's needs all with one site."
-Rose Do, MD
"The Docnews article: "Randomized clinical trial of skin closure by subcuticular suture or skin stapling after elective colorectal cancer surgery" by Kobayashi et al. resulted in me transitioning from skin stapling in my colorectal cancer patients to utilizing subcuticular suture. This was due to the findings of essentially equivocal infection rates but improved patient satisfaction with subcuticular suture. Automatic logging off CME activity is phenomenal."
-Edward Jones, MD MS
Click here to start earning credits!
---