By Nate Gross, MD, co-founder & CSO
Doximity has an ongoing commitment to ensuring the accuracy and validity of the scientific and medical information on our platform. While commenters making inaccurate claims represent a minority (<0.1%) of our members, we recognize the need to improve our ability to identify and quickly remove misinformation from our network. This post shares how we do this currently and describes our roadmap for future investment.
First, a bit of background on the design of our platform:
All newsfeed content on Doximity comes from credible news sources, top peer-reviewed journals, or public health agencies, such as the CDC.
Unlike other social platforms, discussions on Doximity are always connected to these peer-reviewed journal articles or credible news sources. There is no opportunity for an individual user to create a piece of misinformation that could "go viral" on our platform.
Comments on Doximity are from real-name, verified members; not from bots or fake accounts.
Doximity profiles can be clicked on to see each member's medical licensure, board certification, and other credentials.
Our community guidelines do not permit medical misinformation or content that goes against accepted public health guidelines without evidence-based support.
We employ a rigorous clinical review process, staffed by doctors, to evaluate and remove any comments that get flagged as potential misinformation. These are generally removed within ~12 hours of being flagged or sooner, and we are working to shorten this window (more on this below).
Much of the science that appears in the newsfeed is peer-reviewed journal articles authored by physicians who are members of Doximity. In fact, we matched articles to our physician members over 400,000 times in the past year. This can result in unique opportunities for the paper's author to answer questions in the comments, enabling shared insights and accelerating the spread of clinical best practices.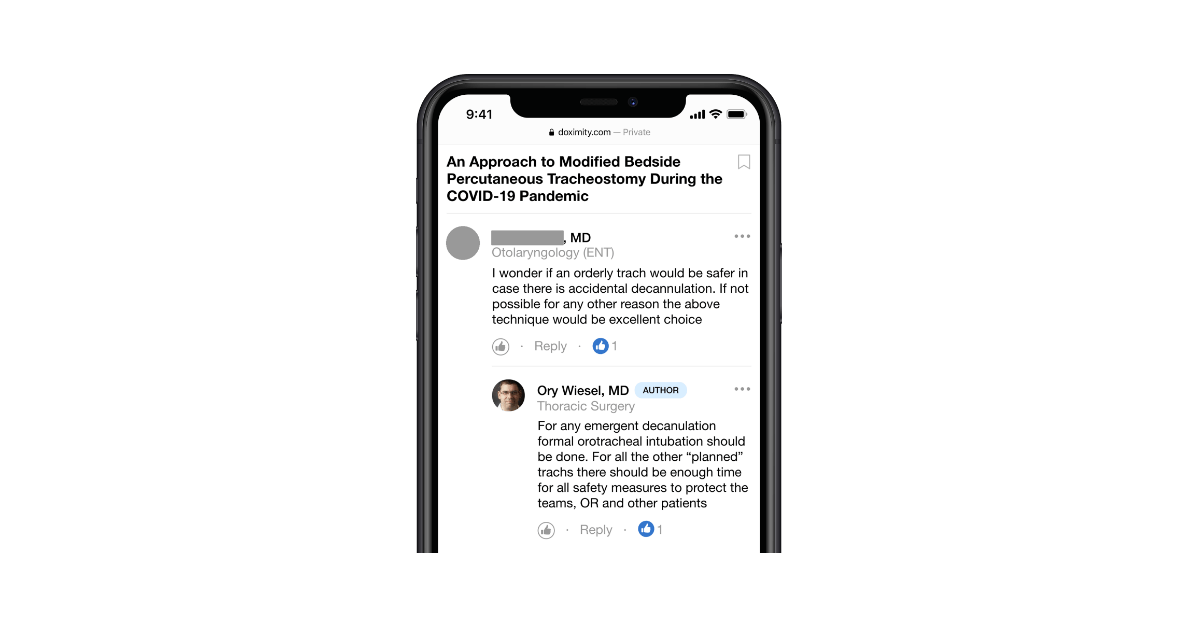 We are committed to physicians having access to the most up to date science and clinical best practices in our newsfeed, and having a forum to engage in productive and substantive conversation. We will continue to make investments to ensure accuracy of information, including but not limited to:
Expanding our physician review team to provide faster review of flagged comments.
Continuing to build technology solutions to quickly identify comments to be sent for priority clinical review.
Empowering the doctors in our community to better moderate the discussion with their peers (doctors are a powerful self-moderating force).
---