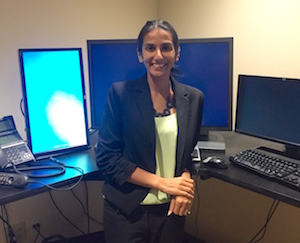 Dr. Nisha Mehta is a radiologist at W.G. (Bill) Heffner Veterans Affairs Medical Center in Charlotte, NC. This is how she works.
---
Choose one word that best describes your work style
Multitasker. Obviously, I focus on the task at hand at any given moment. But overall in life, I need to be working on multiple things. If I'm not, I'm actually less efficient.
Favorite apps & software?
Recently, I've really taken to Twitter to be able to search for relevant news. Everyone's rushing to discuss the latest news on it, and I enjoy hearing personal accounts and opinions before they've been shaped by the press, especially from people who may have different opinions from me. The fact that it's financially in trouble is stressful to me!
What's your top time-saving tip at work?
Deal with things as they come. As a radiologist, I'm interrupted often. I find that if I don't address an issue right away or dictate a report while a study is fresh in my mind, I duplicate a lot of work.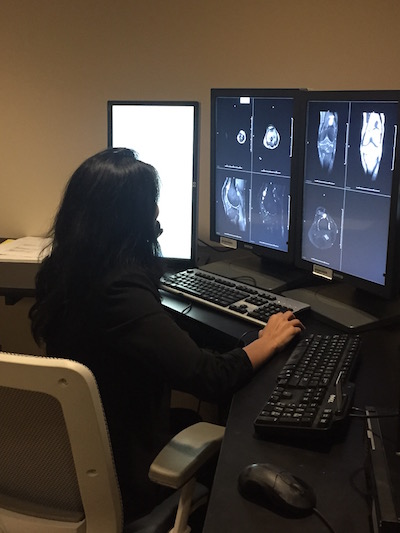 How does Doximity help you in your work as a clinician?
I love seeing curated articles across the various fields. It keeps me updated, and knowing what's important and relevant to referring clinicians is essential to being a good radiologist.
You're currently a practicing radiologist at the VA, but previously spent time in academics. What was that transition like for you, and do you have any advice for those also looking to change their practice setting?
To be honest, the decision to leave academics was made for me - my husband (a plastic and reconstructive surgeon) had a great job opportunity in a city where there wasn't a university hospital. After having two young children, we felt like the next job search had to revolve around what was best for our family (for both of us, not just me). In academics, it had been difficult for me to achieve a solid work life balance, and after the kids went to sleep, I found myself back at work, preparing lectures, responding to emails, and working on my research. I needed a step back from that to refocus on my other interests, although I'll admit that I do miss academics, particularly teaching. Often now, I see a great case, and my instinct is to want to grab the trainees to share it. Fortunately, I have a great group of colleagues with whom to share cases, and we do so often. As far as the advice, I entertained job offers across the spectrum of radiology - from busy private practice settings to teleradiology. Ultimately, I wasn't ready to give up face to face contact with patients and colleagues, but also wasn't sure that having two full time private practice physician parents with frequent call and unpredictable schedules was best for my children. I asked for part time options, but the reality in, (at least our) local radiology job market, is that groups need people to share the call burden. The VA job came along at the last minute, giving me an opportunity to have a predictable lifestyle, see great cases, serve a wonderful patient population, and work with an intelligent, caring group of people, all without worrying about the evolving financial landscape of private practice. I jumped on it, and couldn't be happier. Long story short, my advice is to prioritize what it is that you need out of a job, don't assume that the best job is the one that's most lucrative or the most academically prestigious, and reassess frequently if the job you have is right for you, as this may change as your life changes. Having a job that aligns with your professional interests while allowing you to live the life you want outside of medicine is priceless.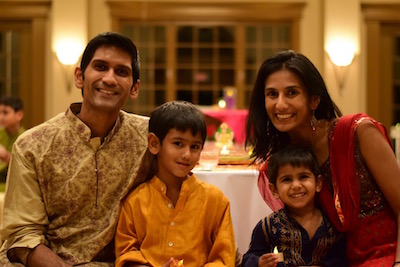 What is the biggest challenge for radiologists today?
I could go on forever about this, but I think it fundamentally comes down to providing value added radiology. Across the board, imaging volume is going up and reimbursement is going down, and radiologists are under increasing pressure to meet turnaround times and churn out more studies. Combined with the fact that the newer generation of physicians is more accustomed to looking at their own imaging and now have the technological capability to do so, there is a lot less interaction with the radiologist than there used to be. While this may seem like it's more convenient for everyone involved, it detracts from the value a radiologist can add, often to the detriment of the patient. A face to face (or even phone) conversation will almost always be more informative, allowing the radiologist to understand the clinical scenario better and to specifically address the question at hand, as well as aiding the referring clinician in understanding the probability of each diagnosis listed in a differential and the appropriate next imaging steps, if any. It's also important that the patients know the role of the radiologist in their care. I'm surprised how often non-clinical people don't realize I'm a physician when I say I'm a radiologist. If we as a field don't do more to promote our essential role in the system, we open up doors for technology or other specialties to take over our roles.
Who is someone you admire? Why?
Another question I could go on forever about! The current focus of my admiration is actually my 5-year-old son, who's just started kindergarten and has developed a fascination with space. As he spits out factoids about astronomic units, dwarf planets, and the potential new ninth planet, I'm constantly in awe of how he uses basic building blocks of knowledge to extrapolate new theories and understand the world around him - often with connections that I myself don't make! It's a constant testament to the power of curiosity and the human brain.
Take us through an average day for you as a radiologist.
I surf the internet, work on mastering yoga poses, and usually leave work after lunch. NO! There's this perception out there that radiologists have it easy. In reality, I read a ton of cases, do procedures ranging from joint injections to biopsies, and spend a lot of time on the phone with clinicians guiding imaging choices and discussing management. It's a rare day that I eat lunch, or that I go more than 7 minutes without the phone ringing (yes, I've timed it).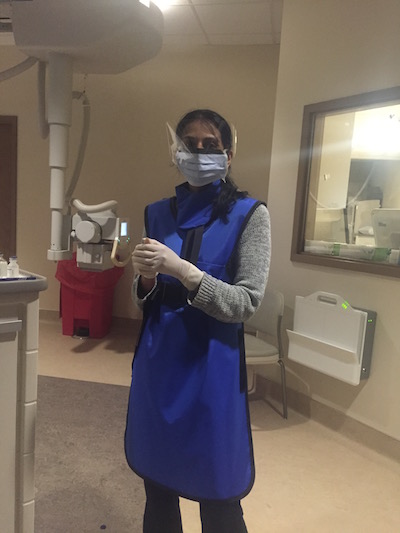 How do you decompress?
Lately, I write. It's great to process my thoughts on paper, and I've been writing about everything from medicine to my 2-year-old son's pronunciation of the word 'water.' Even if most of it never gets published, it allows me to get things out of my system and put things in perspective — and by extension, usually reduces stress. Unless I'm writing about politics and health policy.
What are you currently reading?
I just finished The Rosie Project, a book club selection from a group of physician mothers that I'm in. Great read - flows smoothly and offers a unique insight into the world of Asperger's. I read it in one sitting, and am excited to read book 2 in the series!
Do you have a favorite song?
I tend to listen to my favorite song of the moment on repeat until I can't stand it anymore. It's bad because consequently, few songs stick with me long term. Some that have though include Edwin McCain's "I could not ask for more," the first dance song at my wedding, Toto's "Africa," and a handful of Indian songs I grew up hearing.
What's the best advice you've ever received?
Don't take yourself so seriously. We are so groomed as physicians to project a certain persona, and to some extent, that's essential to the job. But allowing yourself to laugh at your failures, take joy in the little or frivolous things, and keep things in perspective is key in this era of physician burnout.