Roughly 80% of physicians rated their overall hospital practice experience favorably, according to an analysis of more than 11,000 verified physician reviews collected by Doximity's Hospital Reviews product.
Doximity's first ever Physician Hospital Satisfaction Report—based on ratings and free-text physician reviews of over a third of all U.S. hospitals—provides insight into what physicians do and don't value in their workplace, how gender impacts the workplace experience, which specialties are the most and least satisfied, and more. Whether satisfied or dissatisfied, it's clear that physicians across the country overwhelmingly care about the same core issues: support staff, administration, quality of facilities, and work-life balance.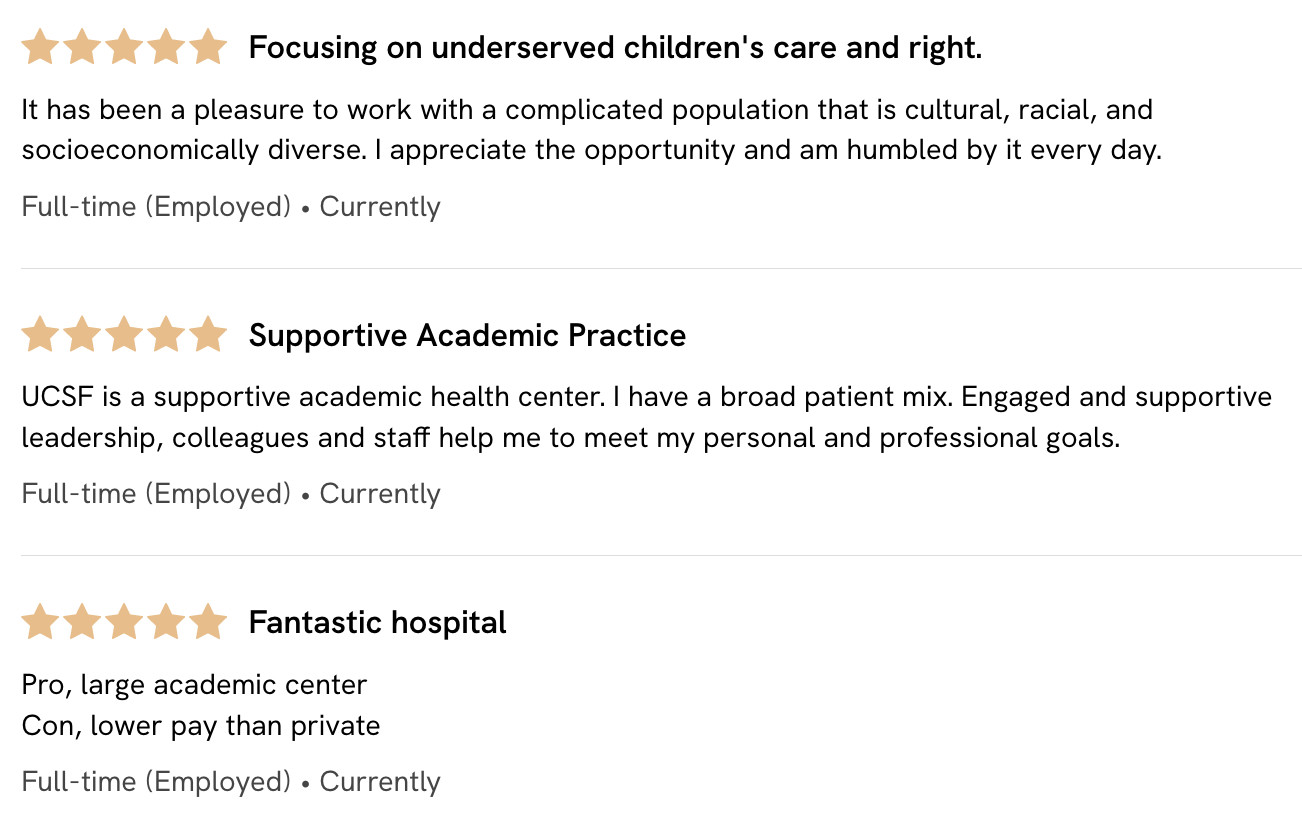 Figure 1. Example reviews of a workplace facility.
Across all reviews—positive and negative—the most commonly discussed topic is support staff, underscoring its influence on physician satisfaction.
A physician praises "administrative leadership [that] is completely in tune with the medical staff and the community.Outstanding support staff that goes above and beyond the call of duty. The patient experience is excellent!" (Review)
While another physician laments ​​that "support staff [are] close to non-existent. Have to do all of my own paperwork and often enter my own refills. No flexibility on the part of the management either with respect to schedule. Work-life balance? Are you kidding me?" (Review).
Positive (4 or 5 stars) reviews more often mentioned "state-of-the-art" and "high quality" facilities, highlighting how modern infrastructure affects practice experience. The quality of the facility was the basis of one physician's 5-star review:
"The hospital has brand new fully renovated preop and postop areas with large modern operating rooms with the latest technology and a new totally renovated orthopedic nursing floor. The operating room is very efficient and the staff is excellent."
In contrast, negative (1 or 2 stars) reviews more often referenced a facility's focus on money and "the bottom line." Negative reviews by women specifically referenced the existence of the "old boys' club."

Figure 2. Most common phrases in positive (4 or 5 stars) and negative (1 or 2 stars) reviews.
Locum tenens physicians left among the most negative reviews of any primary position—with more than 26% writing negative reviews. In contrast, less than 5% of administrative physicians and 12% of full-time employed physicians left negative reviews.
"Tough small town culture. Great city, but a tough culture. [Be] careful of a toxic workplace environment toward outsiders." Locums Tenens Physician Review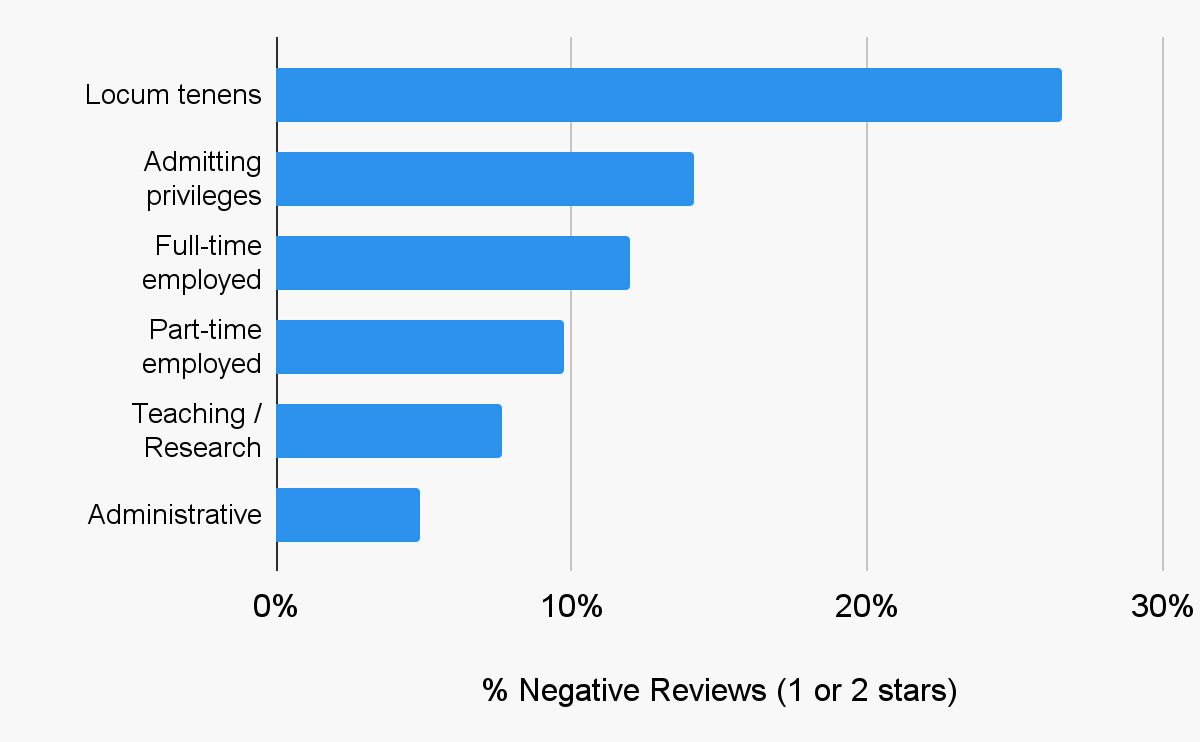 Figure 3. Percentage of negative reviews by reviewers' practice type.
Overall, most facilities had excellent ratings of their support staff, scheduling flexibility, and culture. Facilities located in the following large cities—Rochester, MN, Pittsburgh, PA, Philadelphia, PA, Cleveland, OH, Boston, MA, and Columbus, OH—received the most positive reviews, with over 90% of reviews being positive. Interestingly, there was no correlation between the location of the hospital and its surrounding quality of life ratings* on the physician's satisfaction with the hospital practice experience.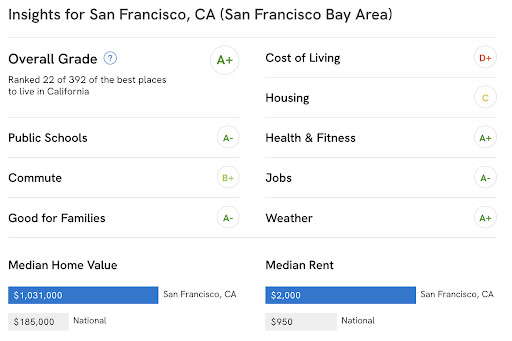 Figure 4. Neighborhood ratings on Doximity's hospital pages are provided by Niche.
The most well-regarded hospitals, based on the Overall Ratings of the collected reviews, were spread out across the country, but tended to be large academic medical centers. Children's Hospital Colorado, Hospital of the University of Pennsylvania, Mayo Clinic Hospital-Phoenix, and MedStar Georgetown University Hospital received 100% positive reviews.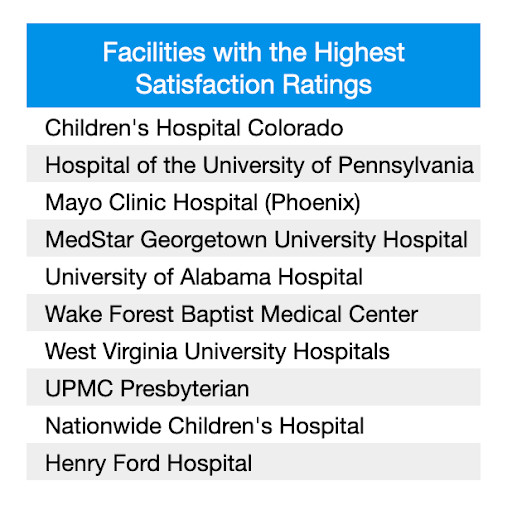 Figure 5. Facilities with highest percentage of positive reviews (min. 20 reviews). Read all hospital reviews here.
Additionally, large rural hospitals received more negative ratings—with 24% of their ratings being 1 or 2 star reviews—compared to urban (11%) and smaller rural hospitals (13%). However, across all rural hospitals, women left more negative ratings (28%) compared to men (21%)—a gap that did not exist in ratings of urban hospitals.
"Compensation is below market for workload and unit production…Organization-wide bureaucracy seems to add layers of admin annually without adding MDs. Workload has increased 40% in the past 5 years without an accompanying increase in pay. Cost of living is in line with SF and NYC. MD turnover is very high for [the] above reasons." Large Rural Hospital Review
By primary service, cancer centers and children's hospitals had the highest ratings—with 95% and 89% of reviews being positive, respectively. At the other end are psychiatric hospitals—with only 70% of reviews being positive.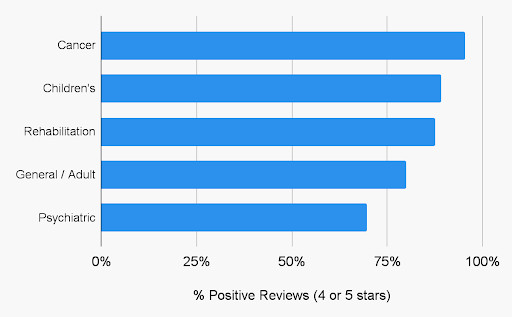 Figure 6. Percentage of positive reviews by the hospital's primary service.
General differences were observed based on the reviewer's gender, training, and credentials. Women wrote more negative (1 or 2 star) reviews than men, with the largest gaps in satisfaction among ophthalmologists (-18% less positive reviews) and general surgeons (-11%).
"…Over-populated middle management with little respect for physicians or nurses…Quick to weaponize the 'disruptive physician' label when doctors question decisions from [the] patient care perspective. Have allowed gender bias and sexism to become entrenched, allowing very directed disrespect toward female physicians." (Review)
There were, however, several specialties that women left more positive reviews than men. These include endocrinology (+17% more positive reviews), neonatology (+10%), emergency medicine (+9%), neurology (+6%), and oncology (+4%).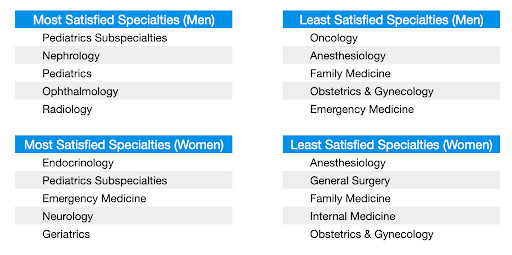 Figure 7. Hospital satisfaction by gender and specialties, ordered by average rating per physician.
In terms of training pathways, medical graduates who trained outside of the U.S, rated workplace facilities higher than U.S.-trained medical graduates (+3% more positive reviews). And physicians with MD degrees left higher reviews than physicians with DO degrees (+8%).
And as physicians age, they also tend to leave lower ratings, particularly when rating workplace culture. Physicians who graduated from residency in the last 5 years are more satisfied than those who graduated more than 5 years ago. Perhaps related, 70% of physicians who practiced less than 30 miles from where they trained were very satisfied with their work experience compared to only 63% of physicians who practiced further away.
"MGH is a great place to work. I've felt supported as young faculty, and given plenty of opportunities to grow my practice. I chose to work here partly due to the excellent mentorship, which has been invaluable." Early Career Physician Review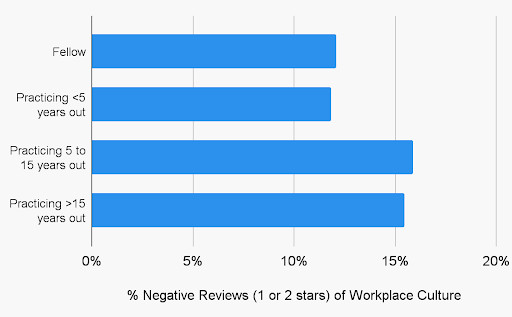 Figure 8. Percent of negative reviews of facility culture by years out of training.
Rounding out the analysis is a breakdown of reviews by specialty. The specialties that left the most positive workplace reviews included radiation oncologists (92% positive reviews), hematologists (91%), and pediatric subspecialists (90%). At the opposite end were anesthesiologists (70%), family medicine physicians (74%), and rheumatologists (74%). Surgeons left reviews across the spectrum: neurosurgeons (87%) and thoracic surgeons (83%) were among the top surgical specialties leaving positive reviews, whereas plastic surgeons (75%), ob/gyn (77%), general surgeons (77%), and ophthalmologists (79%) fell in the bottom 10.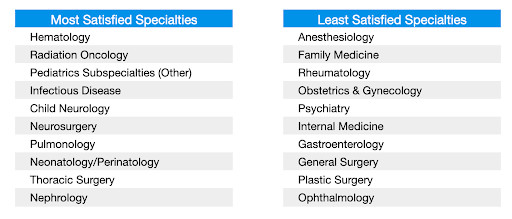 Figure 9. Specialties and hospital satisfaction, ordered by average rating per physician.
These trends suggest that simple classifications—such as geography, income potential, or procedural nature of work—do not tell the full story of what makes a physician satisfied with their hospital practice experience. But perhaps, if you are a young physician working full-time in an urban hospital you may be more satisfied with your hospital work experience than the average older physician working locum gigs in a large rural hospital.
Overall, physicians were satisfied with their hospital practice experience and place tremendous value on quality of support staff, supportive administration, high quality equipment, and a collegial environment. Each individual physician's experience is their own, but these data reveal trends that could help inform future and current job seekers about their next step.
What matters most for a healthy workplace experience? Share your thoughts to this article, or write a review of your own workplace to make your voice heard.
"Patient and staff-focused culture with all the support, innovation, safety, and service. Integrity, compassion, accountability, respect, excellence are the hospital values shared by virtually everyone." 5-star review
Explore all of Doximity's Hospital Reviews Here
---