By Sarah-Richelle Lemas, Doximity
We've talked about the super-powers of super-connected docs, and how physicians are ditching traditional methods of finding other doctors in favor of using their online network. Now we want to share some practical tips on how to search within Doximity like a pro. Whether you need to urgently contact a patient's PCP while you are on call, locate a referral, or even find your next job, we'll show you how to search Doximity to get the information you need and connect with the right clinicians STAT.  
Searching for that perfect (referral) fit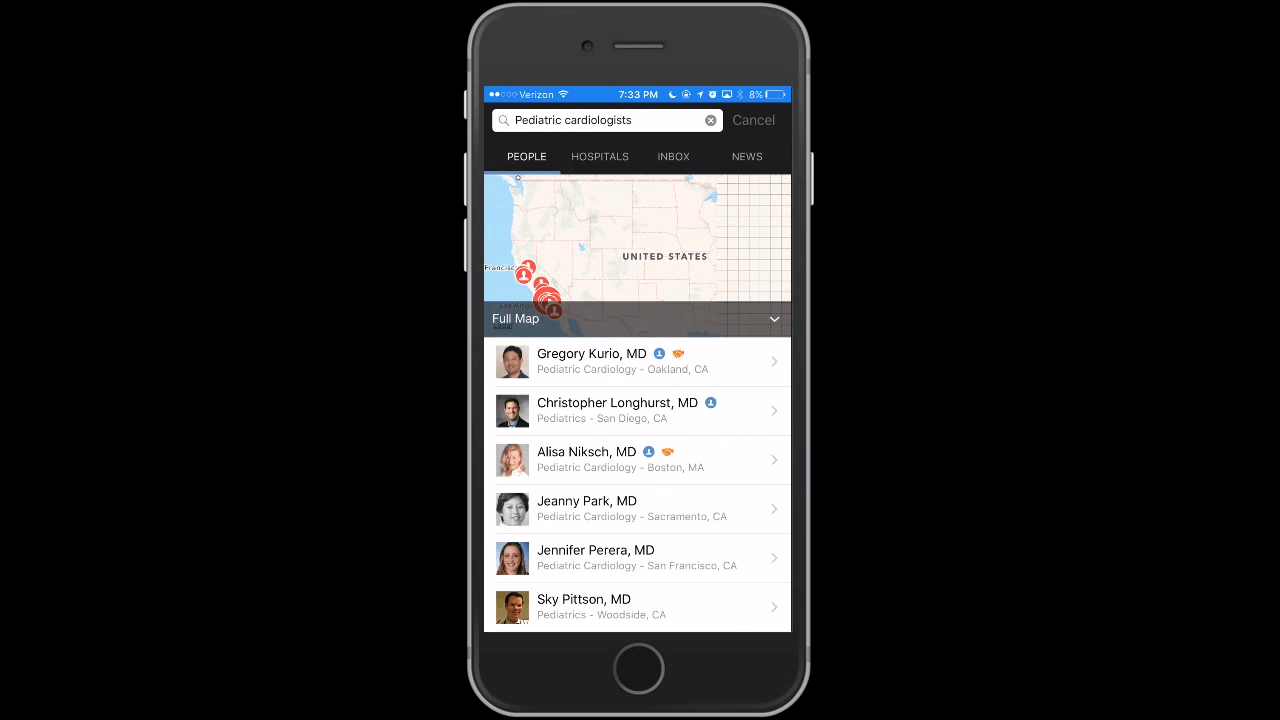 Say you have a patient in San Francisco who needs a referral for a pediatric cardiologist. Type "pediatric cardiologist" into the top search bar on Doximity.com or the mobile app, and you'll be presented with a list of matches. If you click on the "People" tab, you can further narrow your pediatric cardiologist results by location, specialty, or hospital. All the clinician profiles are reliable since they combine both public and user-entered data. And the search covers all the fields in their profile, so you can get matches based on subspecialty or research interests too. Plus, you can usually find more detailed and up-to-date contact information for those cardiologists than you would on Google, including back office numbers and other direct contact details if you are connected as colleagues.
Pro tip: You can even do a reverse lookup by phone number, if, say, you want to get more details on a physician you don't know well who left a message on your voicemail.
What you may not know is Doximity search results are customized just for you. Our algorithms prioritize search results based on your location, your specialty, and who your colleagues are, and anticipate what you are most likely searching for, to make your search results as accurate as possible.
Map it!
If you do that same search for a pediatric cardiologist on your mobile device (iPhone, iPad, Android), you'll also see a map view of your search results, and can easily zoom in to focus on results in a certain geographic area. Plus your search history is synced across devices, so no matter where you log in, Doximity will remember your recent searches.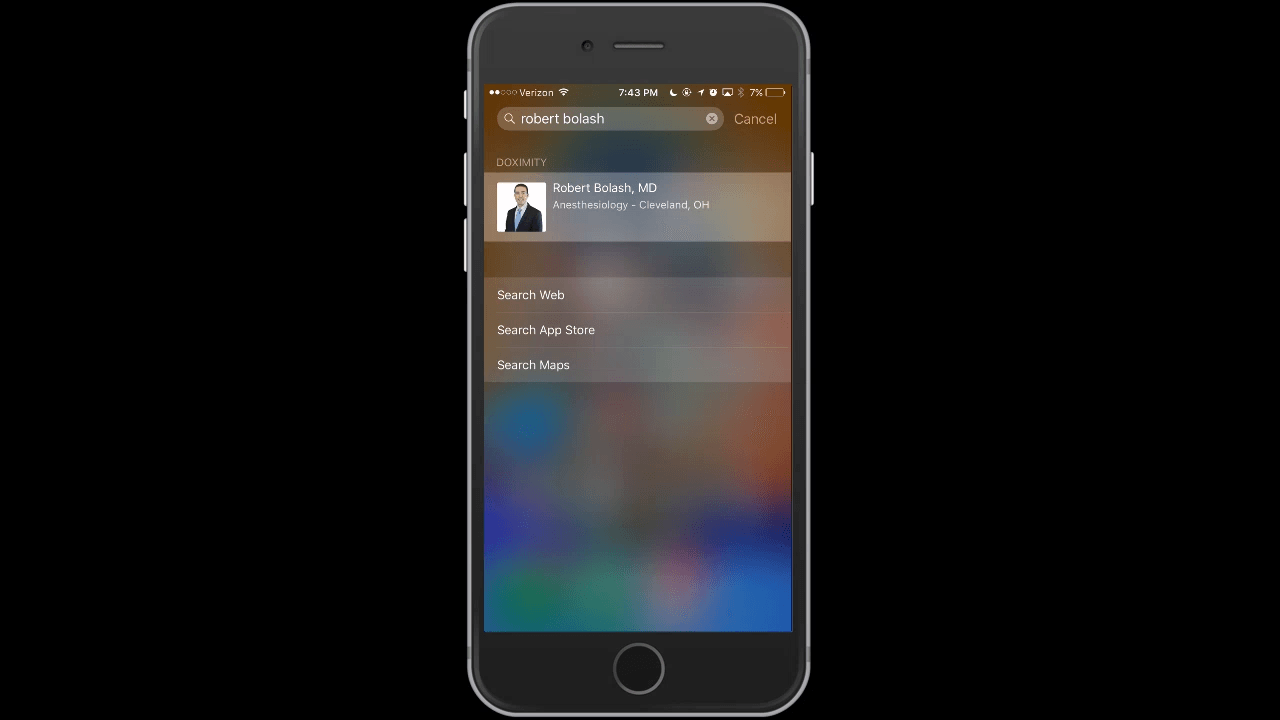 Pro tip: You can do "spotlight" search on your iPhone (which searches ALL content on your device, such as apps, music, contacts etc.) for a particular clinician, and it will include contact details from Doximity, if it's a professional that you've colleagued with or searched for on Doximity before.
Land a new job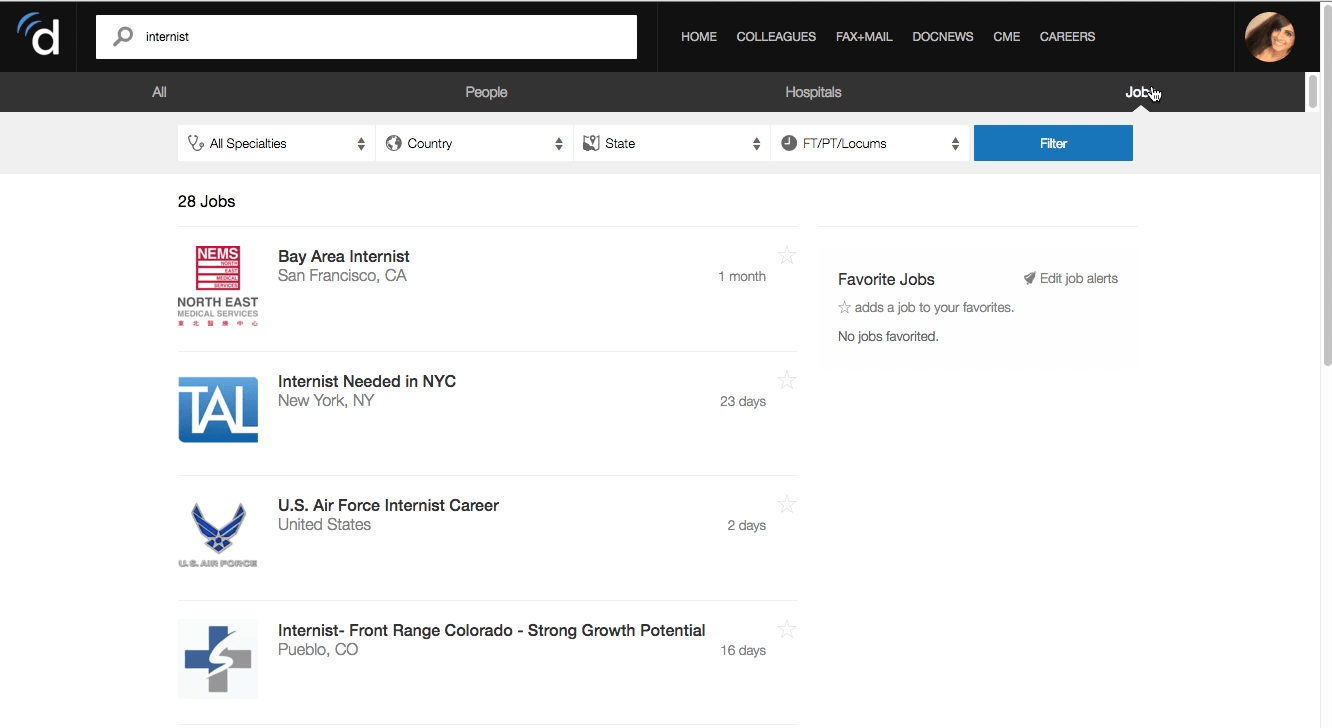 If your past job searches involved weeding out vague posts that that mention more about golf and fishing than the actual position itself, you can try out the Doximity Jobs tab, where you can filter your search by what physicians actually care about: specialty, location, and even by part-time/full-time/locum tenens. For example, let's say you're a internist looking for a new opportunity. You can type "internist" in the search bar and filter by specialty, county, and state. And if golf is a priority, you can include that in your search terms, too!
The power of search
Doximity offers robust searching capabilities so that no matter what you are looking for -- a referral, reconnecting with an old colleague, a new job opportunity -- we can help you find what you need fast and easily. Our job is to help you connect and communicate with other clinicians -- via powerful searching features -- so that you can focus on your patients.
---