Harrison Reed is a physician assistant who practices emergency and critical care medicine at the University of Maryland Medical Center. You can follow him on Twitter at @HarrisonReedPA.
---
Choose one word that best describes your work style:
Dedicated. I have been writing and editing professionally for about 10 years and it's something I never plan to quit. But I think the trap that comes with experience is the assumption that any prior success will lift up your current projects. I try really hard to not become complacent, to keep reinventing myself, to experiment and take risks. I never want to assume I get a pass because someone is familiar with my previous work. I write every article or essay with the assumption it will be the only sample of my writing you will ever read. I want them all to leave a great first impression.
What is your device of choice?
I always have my phone, but if I leave the house for more than one day I tend to bring my laptop. A phone just can't handle word processing like a computer with a full-sized screen and keyboard.
Favorite apps & software?
People interested in medicine and writing can follow me on Twitter. For clinical apps, I like to use the PEPID Emergency Medicine suite. It's a lot of information organized and formatted for the chaos of the ER.
What's your secret to staying productive?
Consistency. Like exercise, writing and clinical medicine are much easier if you do them on a regular basis. Sometimes that means scheduling time to write or edit even if I'm not in the mood, or making sure I have time alone on my days off. The difficult thing is anticipating my own energy levels and acknowledging when the most productive thing is to get some sleep.
What do you wish you knew when you were younger?
That healthcare is a business. There are a lot of romantic ideas around the healthcare industry and in many ways medicine can be a very noble pursuit. But it doesn't happen without budgets and sometimes even profits. As someone who had a more human-centered motivation to enter this line of work, that realization was tough. We can still put patient care first, but we must acknowledge the other forces at work in our industry so that we are not blindsided by their effects.
Who is your mentor?
I've had some great managers, editors, and teachers at various stages of my career. But my most dedicated and loyal mentor has always been my mom. She is still my toughest and most honest editor to this day.
What's the first thing you do when you wake up?
If it's a work day I turn off an alarm that has been ringing for way too long.
On my days off, I walk down the street to my favorite café. The coffee is great and the owner works the cash register every day.
What's the last thing you do before you go to sleep?
I wish I could say I have some sophisticated ritual but I just plug in my phone and make sure at least three alarms are set. There's nothing worse than the cold sweat when you realize you've overslept.
How do you decompress?
I run outside when the weather allows it. But my favorite thing to do after a long day is play video games with my teenage nephew. I think he puts a lot of effort into making sure I don't feel too old and out of touch.
I can't live without...
My house definitely feels empty when I run out of hot sauce. There is also a void in my life when I don't have a working pair of headphones. I could survive a post-apocalyptic world without those things but I wouldn't be happy about it.
What are you currently reading?
In the fictional world I'm reading "Cutting for Stone" by Abraham Verghese and for nonfiction I am reading "How to Write Short" by Roy Peter Clark.
What's your favorite book?
Roy Peter Clark's "Writing Tools" changed my understanding of writing more than any other book. But the book that stands out in my mind is "Ender's Game" by Orson Scott Card. Card created a fantasy world without losing any of the grit and heartache of real life. It's not often a book is both relatable and an escape at the same time.
Do you have a favorite song?
People are sometimes surprised to hear that I am a huge fan of hip-hop. I like Jay-Z's music, specifically The Blueprint through The Black Album. But a song outside the genre that I really love is Frank Sinatra's I Did it My Way. It still gives me chills.
What's the best advice you've ever received?
"Dare to be different." My mom always says that. It's good advice and I use it as a personal challenge. I think it is important to be something the world hasn't already seen.
---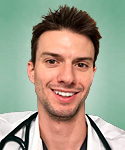 Harrison Reed is a physician assistant who practices emergency and critical care medicine. He is the Associate Editor of the Journal of the American Academy of Physician Assistants and a regular blogger for the New England Journal of Medicine's Journal Watch. He currently lives and works in Baltimore, MD.
---