COVID-19 has impacted all facets of life in the U.S., and ironically, our healthcare system has been one of the hardest hit. As hospitals and private medical practices faced growing waves of delayed and canceled elective procedures in the first half of 2020, they've been forced to resort to administering pay cuts and employee furloughs. Most doctors have never seen a financial storm like this, as healthcare is an area most economists would have previously called "recession-proof".
This may be why the average pay for physicians only increased by a nominal 1.5% in 2020 — much lower than the 4% average increases we've seen in previous years. Given that the inflation rate in 2019 was 2.3%, physicians on average experienced a decline in real income over the calendar year.
These trends, along with other unique insights, are featured in Doximity's 2020 Annual Physician Compensation Report, one of the most comprehensive national efforts to track how doctors are paid. The study is derived from self-reported salary data submitted by over 84,000 U.S. licensed full-time physicians.
Milwaukee Still Reigns, Atlanta Rises
For the second straight year, Milwaukee, Wisconsin, was the metro area with the highest average annual compensation for physicians, offering $430,274, a 9.5% increase from 2019. Atlanta, Georgia moves up five spots to the number two position. These numbers reflect all specialties averaged together.
The top 5 metro areas in which physicians had the highest average annual salary in 2020 are:
Milwaukee, Wisconsin — $430,274
Atlanta, Georgia — $428,244
Jacksonville, Florida — $427,090
Buffalo, New York — $407,070
Orlando, Florida — $406,587
The top 5 metro areas in which physicians had the lowest average salary in 2020 are:
San Antonio, Texas — $329,475
Virginia Beach, Virginia — $331,952
Boston, Massachusetts — $347,894
Baltimore, Maryland — $348,389
Washington D.C. — $351,572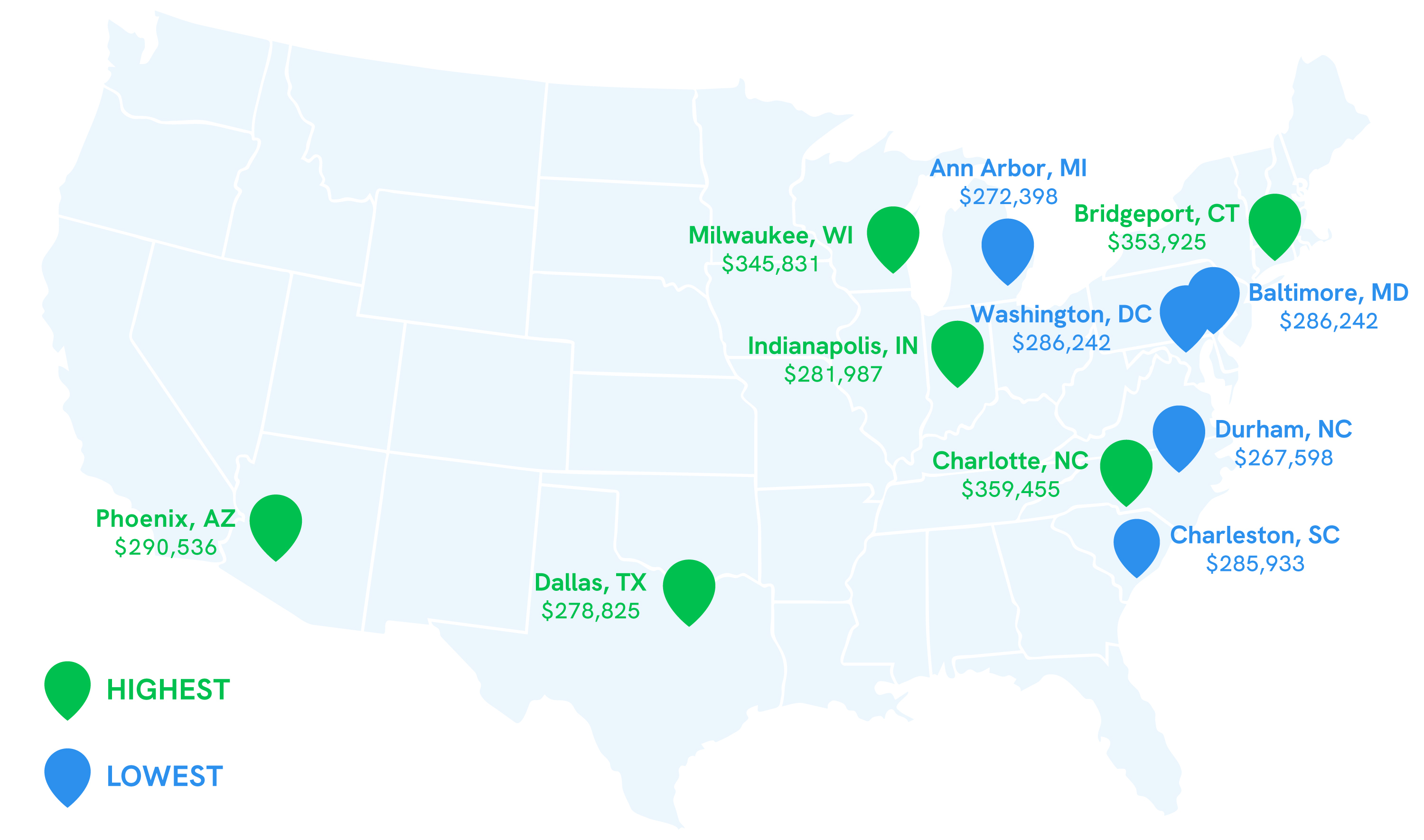 Physician Gender Wage Gap Widens, Reversing Course From Last Year
In 2019, Doximity reported that the gender pay gap between male and female physicians — the difference in compensation between men and women of the same title or role — had narrowed to 25.2%, the smallest gap since we started conducting our study in 2017. This year, the gender pay gap has increased to 28%, which in dollar terms, represents a delta of $116,000. Furthermore, when examining the gender wage gap by specialty, the data shows there are no medical specialties in which women earned the same or more than men in 2020.
The top 5 metro areas where female physicians were paid the lowest average annual salary are:
Oklahoma City, Oklahoma — $238,797
Hartford, Connecticut — $239,897
Memphis, Tennessee — $246,531
Virginia Beach, Virginia — $256,678
Providence, Rhode Island — $262,595
The top 5 specialties with the largest gender pay gap (by percentage) are:
Otolaryngology (ENT) — 28.2%
Geriatrics — 27.1%
Orthopedic Surgery — 24.9%
Research — 24.6%
OBGYN — 24.4%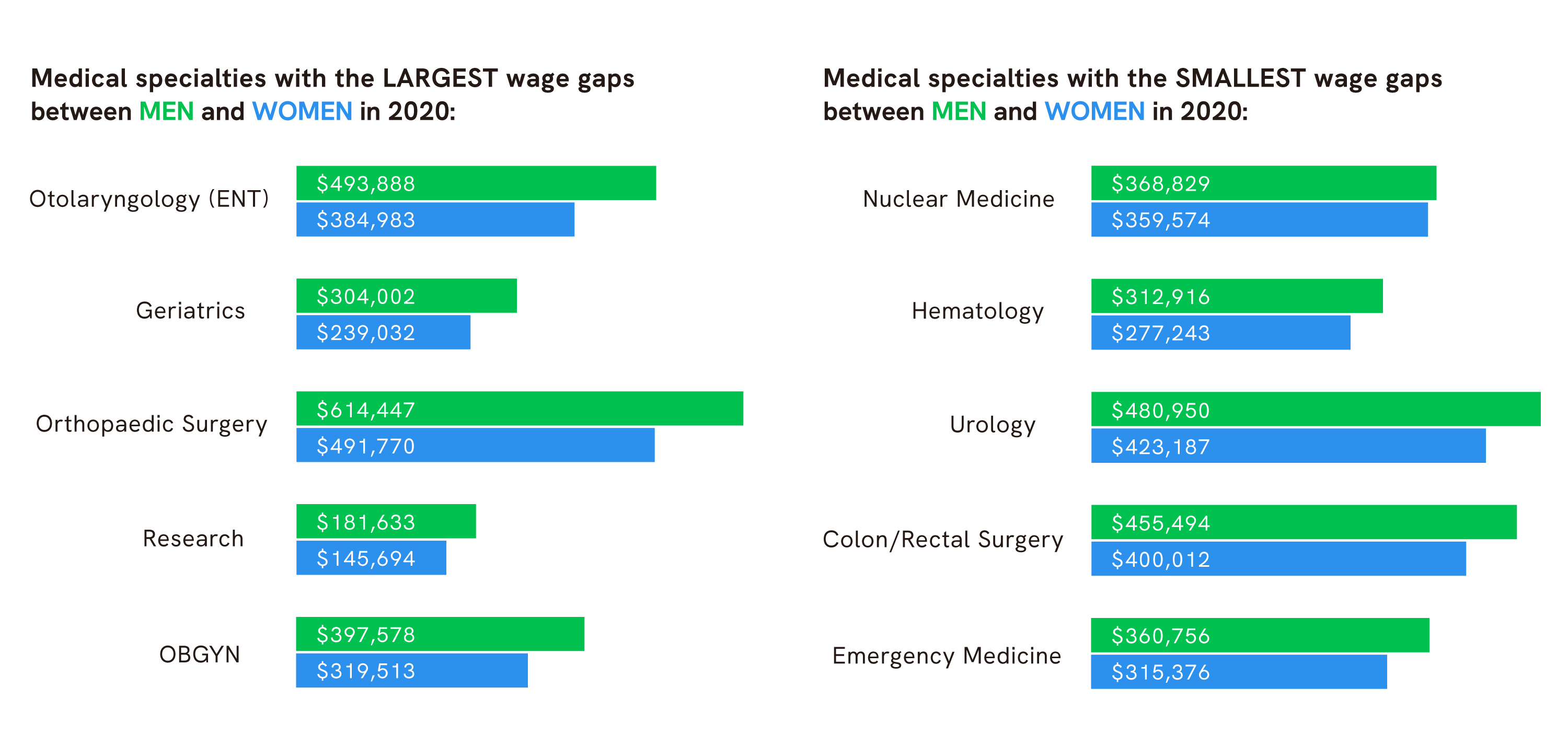 Specialty Compensation Growth
While COVID-19 had a negative impact on physician compensation as a whole, there are some specialties that did experience gains. Doctors specializing in vascular surgery, geriatrics, and emergency medicine are seeing some of the largest increases, growing compensation by nearly 5% this year. It's possible the pandemic has generated more demand in these areas, impacting pay for specialists who treat high-risk patients such as those with severe respiratory complications, those 65 years and older, and patients presenting at the emergency room.
The top 5 specialties with the largest increase in average annual compensation are:

Doximity's 2020 Annual Physician Compensation Report
Access the salary map in Doximity Career Navigator.
To read more interesting physician compensation highlights and trends, please download the 2020 Annual Physician Compensation Report here.
Access Doxmity's complete collection of industry-leading studies, including the 2020 State of Telemedicine Report here.
---