Every day, new information and research surfaces about COVID-19 and sometimes it feels like we're caught in a national game of "telephone" – where we're not sure of what's scientifically accurate and what is simply rumor or conjecture. Through this sea of noise, doctors have been our main source of medical truth when it comes to the novel coronavirus, and we'll continue to rely on medical professionals to help us navigate through this global health crisis.
This got us thinking. Given the important role they play as spokespeople for the country's healthcare system…how often have our nation's doctors shown up in the press since the pandemic started? The frequency has certainly increased…but are there certain specialties providing more or less commentary to news outlets? Are reporters even talking to the right doctors?
As the largest professional medical network with over 70% of all U.S. doctors as members, we're in a unique position to analyze the role doctors play in the press.
We researched physician press mentions by specialty, analyzing the number of mentions from January 2019 to present. Here's what we found:
The 10 specialties with the largest INCREASE in average monthly press mentions since the pandemic: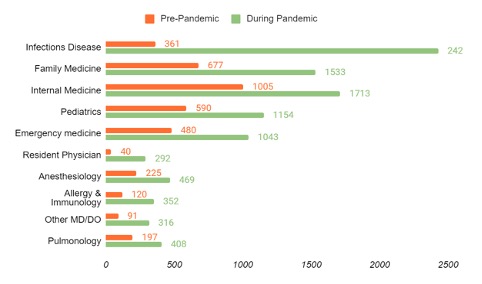 Specialties with the most press mentions since the pandemic include infections disease, family medicine and internal medicine – those who play a key role in treating COVID-19 patients.
The 10 specialties with the largest DECREASE in average monthly press mentions since the pandemic: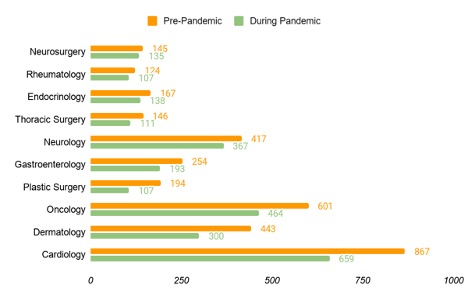 While these specialists still treat some of the most common and deadliest diseases in the U.S. like heart disease and cancer, they've taken a few steps out of the media limelight in 2020.
Monthly average press mentions between January 2019 to March 2020: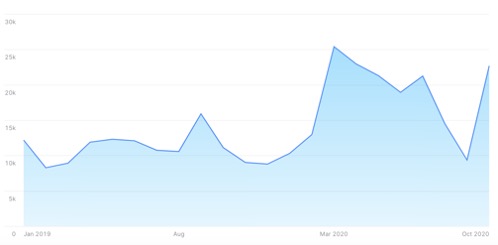 Overall, we saw a large increase in press mentions across all specialties, particularly at the beginning of March 2020, when COVID-19 hit the U.S and lockdowns across the country initiated.
---