Over the last few years, Dialer in the Doximity app has given physicians the freedom to call patients from their cell phones. To date, Doximity members have made over 21 million calls to their patients using Dialer.
Today, we're launching Straight to Voicemail, the newest feature to join the Doximity Dialer family of communication tools. Straight to Voicemail lets physicians directly reach their patient or colleague's voicemail to leave a message, and gives the recipient the option to return the call with a callback number.
The new voicemail option gives physicians another efficient-yet-private way to reach their patients and save even more time while providing exceptional patient care.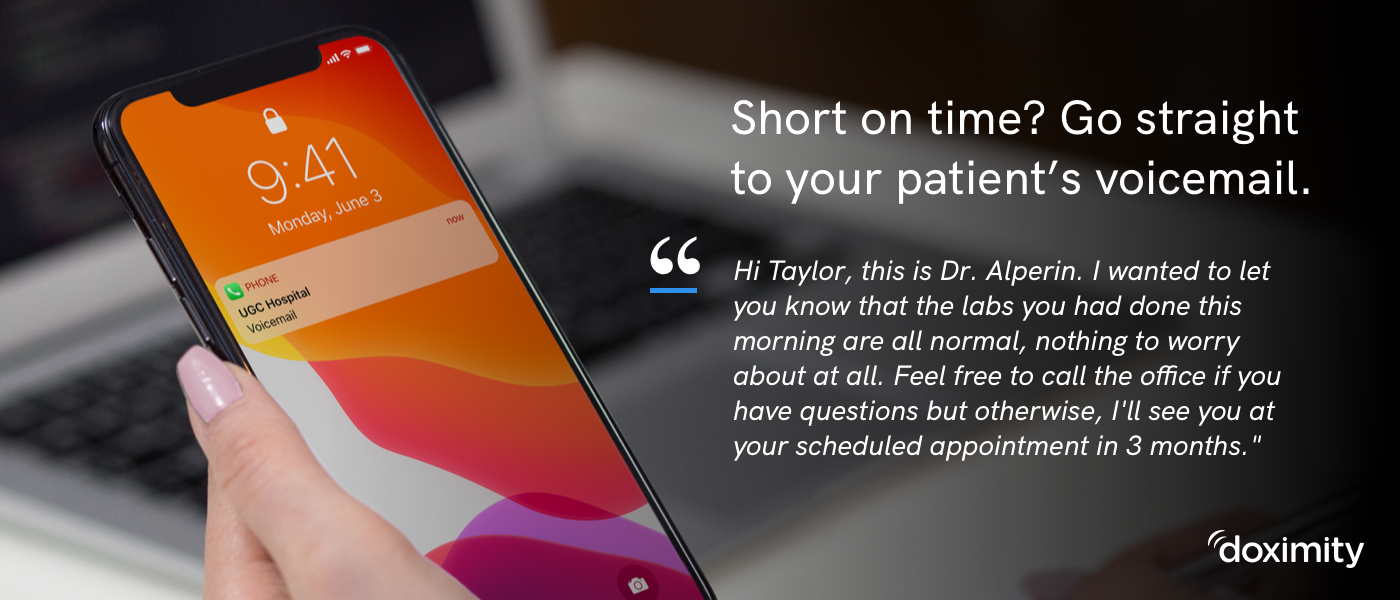 "After I started using Straight to Voicemail in the Doximity app, my patients thanked me for the 'personal touch' of a phone call, rather than a sterile message through their patient portal."

Cherry Creek Heart

"For the patient with an abnormal result with whom an explanation is in order, I use the usual Dialer in the Doximity app. This is still great because no matter when I call, it appears as if I am calling from my office. With the Straight to Voicemail mode, a call made from the Doximity app goes directly to the patient's cellphone voicemail! Perfect for normal studies requiring little explanation."

Capitol Cardiology Associates
We've been lucky to work closely with some of our Beta Program physician members over the last few months. They tell us Straight to Voicemail has been helpful in reducing the time already spent on the phone with patients, without sacrificing the quality of care. It's perfect for:
Relaying normal/benign lab tests/scans

Acknowledging prescription refill requests

Communicating non-urgent information to patients and their family members late at night without disturbing them

Checking in with patients frequently, without sacrificing personal time
This feature is now live for all qualifying* Doximity members. Give it a try by installing the Doximity mobile app and visiting the Dialer tab to get started.
*Doximity Straight to Voicemail is available for U.S. practicing physicians, NPs, PAs, pharmacists, CRNAs and medical students who are signed up and verified on Doximity. If you have any other questions about Straight to Voicemail, please visit the FAQs.
Not on Doximity? It takes 30 seconds to sign up. Create your account here.
---