Today, we launched Doximity Dialer Video, a simple and secure way for physicians to place video calls with their patients -- straight from the Doximity app.
The COVID-19 pandemic has dramatically accelerated the need for telemedicine. Since introducing the feature in our beta testing program last month, 1 million video patient visits have been completed from over 100,000 doctors across the country!
More Time For Medicine
Unlike other telemedicine solutions, patients don't need to download any other apps or software -- they just tap a link to join.
"I am a cardiologist and many of my patients are over 80. During the pandemic, the ease of use of Doximity has helped keep my patients at home but continue their cardiology care." Michael O'Toole, MD, FACC
We've made it easy for patients to join video calls so physicians can spend more time with their patients (and less time on tech support).
How it Works in the Doximity App
Enter your patient's number.

They get a text to join the video call.

That's it.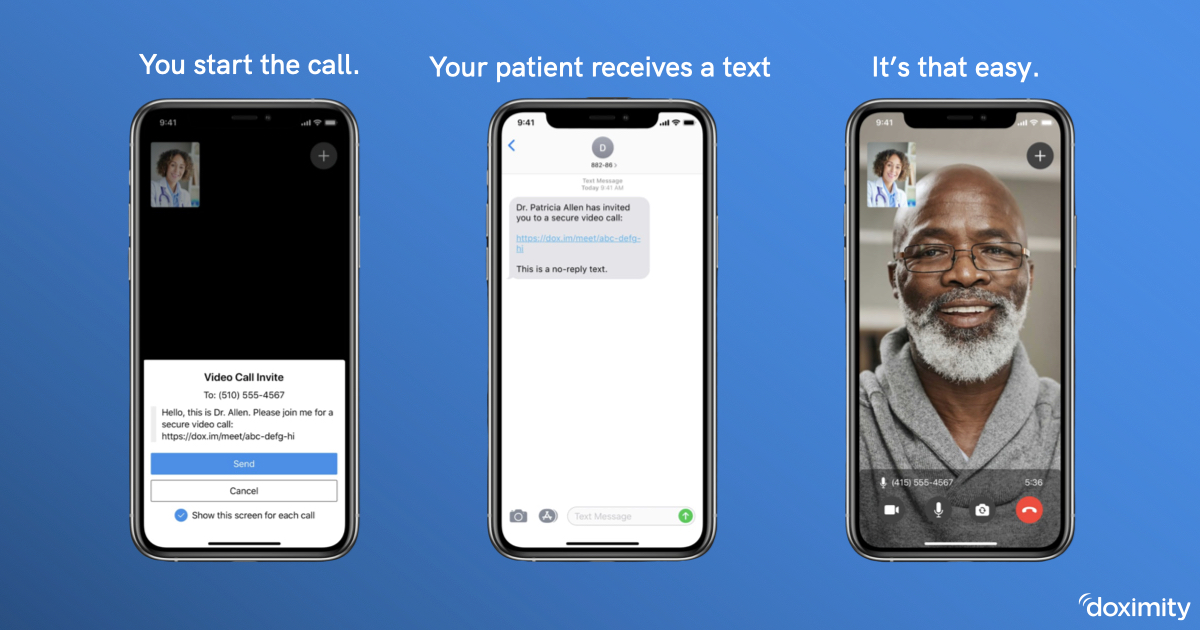 Physician-Focused, Patient-Centered
Custom CallerID.

You can set the CallerID to your hospital or office number, which makes it more likely that patients will recognize the caller and pick up. The doctor's private cell phone number is always protected.

Full HIPAA Compliance.

Patient calls are encrypted, kept private and never recorded.

Epic Haiku integration

. Initiate calls to patients seamlessly from within Epic's mobile electronic health record app.
To help doctors during the COVID-19 crisis, Dialer Video is and will remain free for doctors. A paid enterprise version, Doximity Dialer Pro, is available now for hospital-wide deployments including custom BAAs. In addition, other features of the Doximity app have been extended to our physician members' care teams. Dialer Video and Dialer, Doximity's secure voice calling feature, are now available to nurses and other healthcare professionals to better equip them to care for patients while they work remotely or in clinical settings.
Video calling is available now in the Doximity app for iOS and Android and can be downloaded here. Dialer Video resources (how to start using it, group video calling, what to send your patients, and more) can be found here.
The idea for Dialer Video came from our physician members. What else can we do to help? Let us know.
---