Women's History Month celebrates the contributions women have made to the United States and recognizes achievements made over the course of American history in a variety of fields. Womxn@Dox is committed to working closely with our allies to create a culture of inclusion and equal opportunity. We had the opportunity to catch up with a handful of inspiring women at Doximity to discuss their experiences and accomplishments that have motivated them to elevate others. This week, we interviewed Nancy Htay, Doximity's Client Success Specialist for Hospital Solutions.
Featuring:
Dr. Bushra Anjum - Data Lead and Analytics Manager
Shivani Balan - Senior Marketing Director
Nancy Htay - Client Success Specialist, Hospital Solutions
Angelica F. Recierdo, MS, BSN
Elizabeth Widman, Ph.D, MSc, MApplSc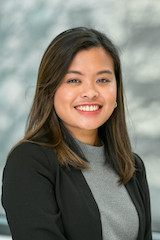 1: What does leadership look like to you?
When someone is a leader, they are inquisitive, adaptable, transparent, and trustworthy. Those that are curious are constantly re-evaluating processes and using data to make informed decisions. They are always asking "but why?" and are not afraid to challenge the status quo. The ability to adapt takes time; successful leaders are not only good at rearranging priorities but putting their employees first. Attending to an employees' needs is just as important or even more important than any other stakeholder because it will affect the overall business performance. When your employees are doing well, they are more likely to perform better.
Trust from a leadership team is earned. To gain trust from your team, a leader must be thoughtful, strategic, and solution-oriented when confronting challenges and overcoming barriers. Being transparent and addressing issues at the right time will allow the leadership team to gain trust from their peers and employees.
Overall, 2020 and the pandemic shows that we are more resilient and adaptable than we realize.
2: What does equality mean to you in the workplace?
I believe we have truly reached equality when people have overcome racial subconscious bias and employers include an equal representation of all ethnicities and races of America as part of their workforce. America is becoming increasingly more and more diverse, and employers are not catching up. Employers still lack diversity and equity in the workplace; the majority of executive leadership at Fortune 500 companies are held by white men. Equality is achieved when black people have a fair and equal chance of opportunity in the workforce. Equity for black people is the gateway to achieve equity for all people of color.
3: What advice would you give to younger women who are entering the workforce?
Whether it's your first or hundredth time interviewing for jobs, it's essential to assess if you think that the company is a good fit for you. Hiring teams are constantly evaluating good candidates that will "fit" into their culture, but candidates need to do the same. Your work or employer shouldn't define you; it's your passion that does. What gets me up every morning while working at Doximity is knowing that, I not only make physicians' lives easier, but I also play a part in making sure doctors can focus more time with patients. This will ultimately improve the quality of life for their patients. A physicians' relationship with a patient is a crucial component of delivering quality care.
If Doximity sounds like the place for you, check out the job board!
---