With a 57% increase in healthcare patients who have reported participating in at least one telehealth visit since the COVID-19 outbreak, it's important to choose a solution that makes the transition to virtual care as seamless as possible. Understanding the patient perspective and choosing a solution that aligns with their needs is critical for delivering good care in this new age. We'll cover some of their top requirements so you can make sure you're continuing to deliver a patient-centric experience, even when you're not in the hospital or clinic.
A Hassle-Free Experience
A telemedicine solution can have a large feature-set with fancy bells and whistles, but what's the point if it's too difficult for the patient to use?
Patients want a telemedicine solution that's convenient, easy to access, and seamless to use. As a healthcare professional, one of the most important criteria to consider when evaluating a solution is the patient experience.
It's common to see telemedicine technology that promises to do it all, but proves to be overwhelming for patients who may be new to applications and video technology. Forcing your patient to download software, setup a username and password, verify their email address, etc. all before they can even receive care can be a daunting experience for many, deterring your patients from wanting to seek treatment.
Choose a solution that minimizes the steps necessary for a patient to connect to an appointment. With Doximity's Dialer Video, patients don't need to download any app or create an account -- they just tap a link to join and start the video call. One-click video calls, it's that easy.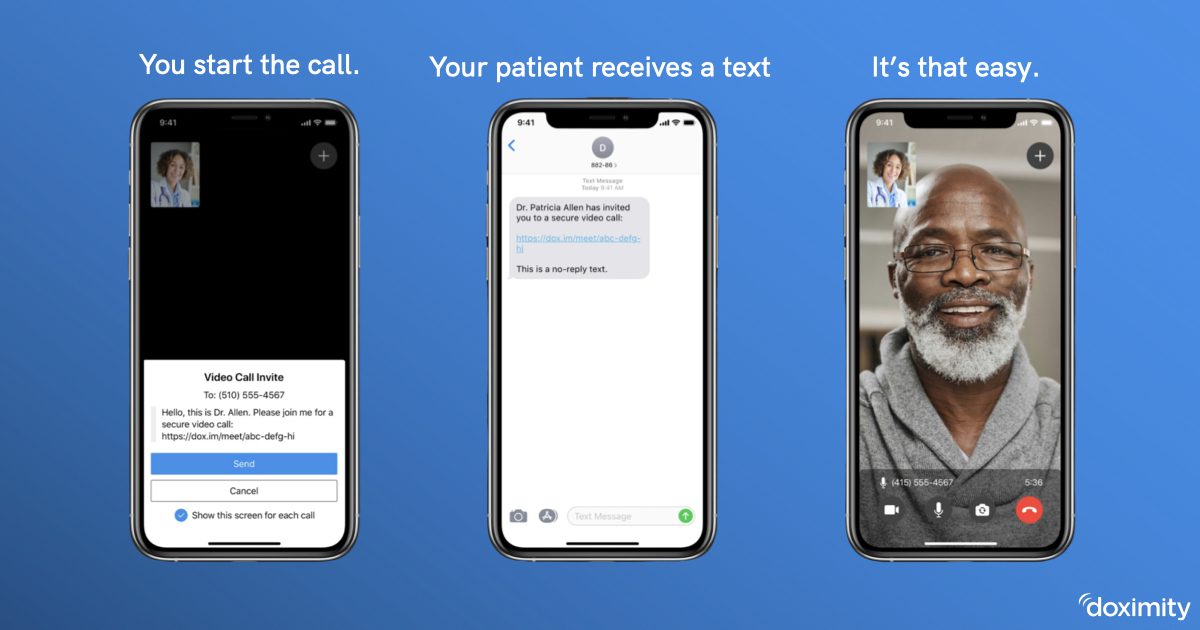 Security
A recent study demonstrated that patient information security is crucial to support the trust relationship between healthcare professionals and patients in telemedicine. A lack of patient trust means that patients do not reveal accurate and complete information about their conditions, which lowers the quality of care. In fact, a recent survey also found that 48% of telemedicine patients would be unlikely to participate in another virtual session if their personal health data were hacked due to a security breach.
Keeping these considerations in mind, Dialer Video is fully secure, facilitating encrypted, HIPAA-compliant communications with patients. Furthermore, it includes a Business Associates Agreement (BAA) for each member.
Hardware-Agnostic Flexibility
Part of providing a personalized, convenient experience for patients is giving them the freedom to participate in the telemedicine session from their preferred hardware device. They should be able to participate on any device with an internet connection, microphone and front-facing camera.
Using Doximity Dialer Video, patients can participate in a telemedicine session anytime, anywhere using iOS and Android-powered mobile phones, the iPad, and the computer by simply clicking a link - no app download required.
"The patients find it easy to use, and nobody has any download/software issues because they don't need to install anything. That's the best part." Dr. Susan Lee Fong, Child Neurology
Appointment Status Updates
It's no secret that physicians face mounting demands on their time, with heavy patient loads and increasing administrative requirements for healthcare delivery causing physicians to run late from time-to-time with their appointments. When running late, it's good "webside manner" to give the patient a heads up, especially since there is no one at the front desk like you would have in a traditional hospital setting.
Physicians using Doximity Dialer Video can provide a one-way-text or a quick phone call to enable better patient communication, keeping the patient in-the-know so they're not staring at a screen blankly waiting to receive treatment.
Robust Patient Support
Given that many patients are participating in telemedicine appointments for the first time, some of them may need help, regardless of how seamless the solution is. Doximity provides a variety of self-serve patient resources to identify and diagnose issues quickly. For issues that continue to persist, patients can reach out to support@doximity.com and their questions will be answered promptly.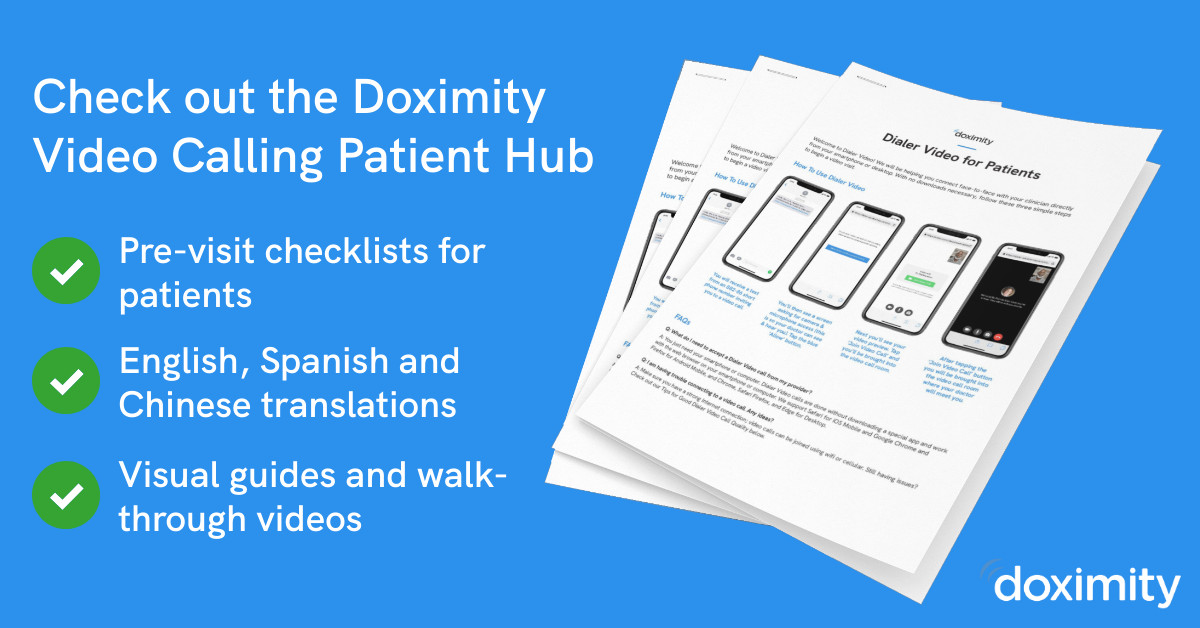 Choosing a Patient-Centric Telemedicine Solution
Finding the right solution for your healthcare organization can be daunting, given the unique needs of your practice and patients. With so many telemedicine solutions on the market, choosing a platform that enhances patient-centered care through intuitive design and hassle-free usage will help generate positive health outcomes for your patients. Doximity's Dialer Video does just that - try out our free, easy-to-use telehealth tool that enables one-click, HIPAA compliant virtual appointments between you and your patients.
---